Top 10 Best Advertising Network besides Google Adsense (Earn Money from Ads)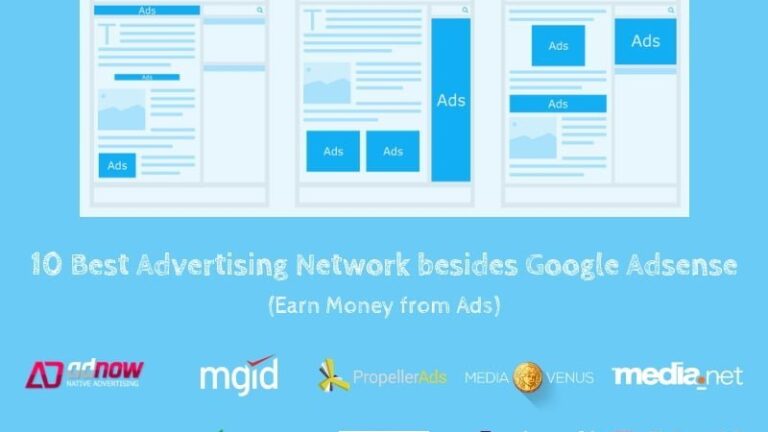 Last updated on
Here are the top 10 best advertising network besides Google Adsense that helps you earn money from ads on your website.
If you concern about putting advertisements on your website or blog to make money, then Google Adsense is the your top choices. However, it is not easy for everyone to get approved by Google AdSense, or what if your account is unfortunately banned? What would you do?
Do you know that, as a website/blog newbie, getting approved by Google Adsense is not a piece of cake. Instead of Google Adsense, why not try other advertising networks that also pay you?
In this article, we will introduce some advertising networks besides Google Adsense that are favored and trusted by many customers nowadays.
You can also make use of these advertising networks together with AdSense to increase the profits made from your website (improve your earnings from ads).  Or you can take a look the legitimate ways to make online for beginners, no need to own a website or blog.
What is an Ad Network?
Ad Network is an advertisement distributing system controlled by a company. They are a group of publishers and individuals, organizations, cooperation, etc having a need to have their products advertised (Advertiser). This company acts as a mediator, collecting money from advertisers and paying website owners for the products or services that are displayed on the website. They also receive arbitrage to operate the system and pay for staffs and unplanned spending (for example: they pay website owner $0.1/click but collect $0.2/click from advertisers, thus they benefit $0.1/click). Using this method benefits all of the 3 parties.
Advantage:
Significantly increase your earnings instead of leaving your website with no advertisements (nobody buys advertisements directly). If you order advertisements for your website then they will constantly appear for 99% of the time.
If you know how to optimize advertisement clicks, your earnings can be doubled or tripled.
Have monthly passive income to pay for server, domain services and efforts that you make,etc
In general, while putting the advertisements on your website, you can still make money on from affiliate marketing on your website. You can have another source of income without any fear of conflicting, which is greatly useful.
Disadvantage:
Earnings might not be as high as your expectation (comparing when you can deal directly with advertiser).
You cannot control advertisements contents displayed on your website for most of the time.
What ad network to choose from in order to earn money?
You are advised to select trustworthy and long-standing advertisement network in order to avoid such risks as:
Being cheated and not getting your advertisement's money
Advertisements contain malware link/banner, which leads to your website being put in blacklist by Google.
In order to make money from advertisement networks of your website, there are such conditions as:
Website with a stable traffic and high rank on Alexa. A few advertisement networks require a particular amount of traffic every month and they also check your website out.
The content provided: adult or copyrighted violated contents (sharing software, e-book, crack, etc) are mostly not accepted
Below are 10 best advertisement networks that can replacement for Google Adsense in 2018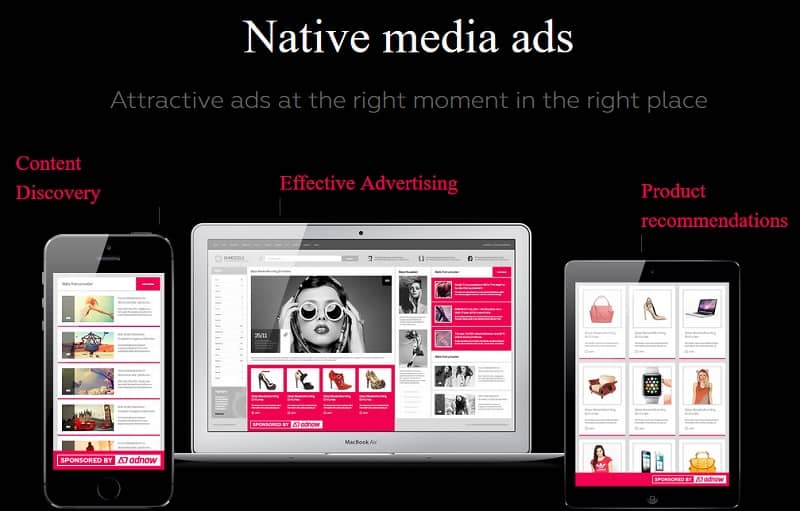 Adnow was born in the middle of 2014. It is a Native Advertising Network which automatically displays the original content of the website.
If you are owning a website with stable traffic then you can absolutely make money by registering to become a publisher for Adnow
Adnow penetrates into the markets of many nations. They contact many blogs, forums and websites to order banners and write for Adnow in order to advertise for themselves.
Currently, there are 160.000 publishers and 210.000 websites that are part of Adnow, distributing ads and gaining profits.
On average, there are 200 million ads and 1700 publishers at 114 countries purchasing ads from Adnow.
Outstanding advantages of Adnow:
Weekly payment (weekend)
Supporting automatically payment via PayPal, WebMoney, Wire Transfer, at $20 minimum
Fast and easy registration
Natural ads, in accordance with the context and have high click rates (on average at 1%)
Able to order along with other networks
All of the ads are strictly controlled and guaranteed not to contain malwares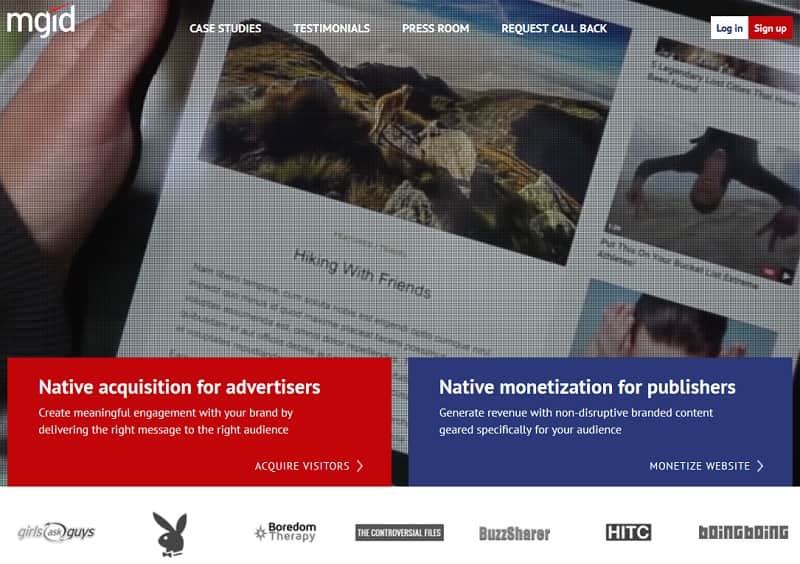 MGID is a qualified advertisement network based in USA. It was founded in 2004 and specializes in news and entertainment.
MGID has +800 million visitors every single month at thousands of high quality websites (up to +20 million visits/day), advertisement display times of MGID go up to +200 billion times.
Some features of MGID:
Minimum payment of $100 via PayPal, Payoneer
Day of payment: 30th of every month, except for Saturday and Sunday
Fairly good advertisement, CPC price at around $0.02 – $0.03/1 click.
Simple registration with just a few steps.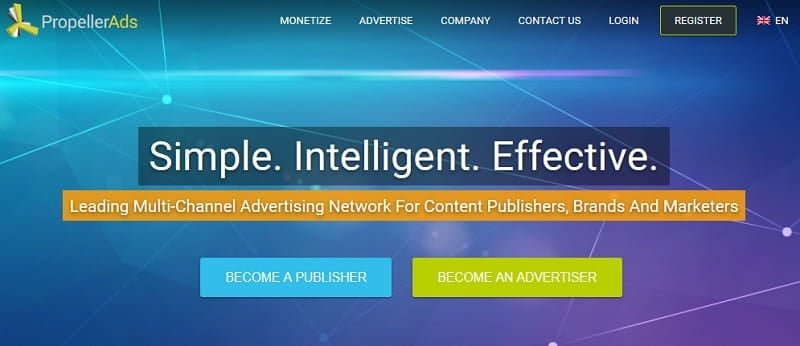 Propeller Ads is a famous advertisement network which was founded in 2012 and based in the United Kingdom. It currently cooperates with many publishers to make online money with websites.
Propeller Ads accepts the majority of websites all over the world. It has a lot of formats like video, mobile, banner and accept ads from most of the countries in the world
Advantages of Propeller Ads:
Simple registration, fast approval
A lot of ad formats: video, mobile, banner, pop, direct
Minimum payment of $100 via Payeer, Wire Transfer, WebMoney, PayPal
High rate (especially with English language websites), can reach up to 70% of income comparing to Google Adsense
Suitable websites: games, software, videos, photos, movies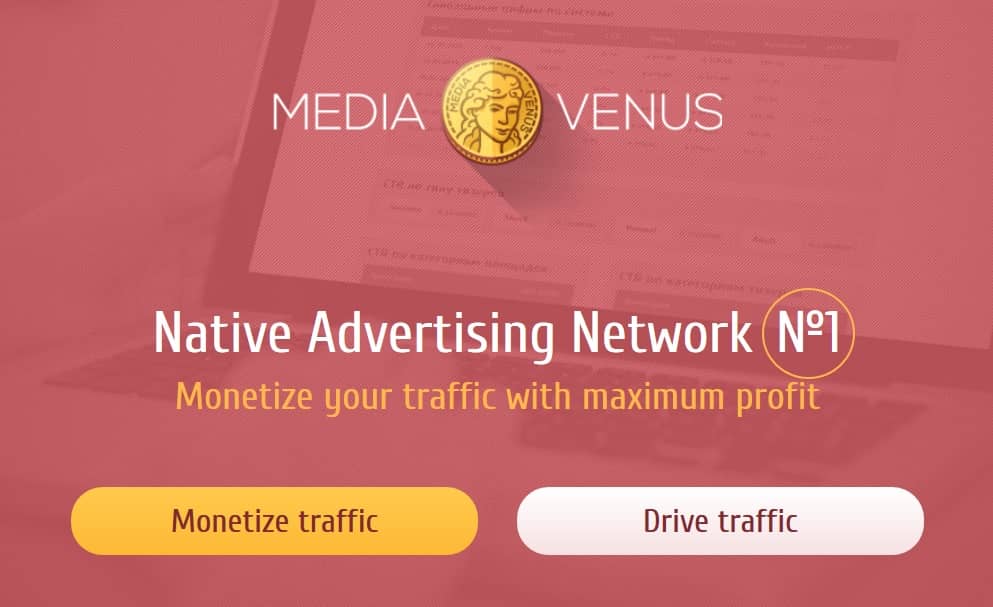 MediaVenus is an advertisement network that helps news website to make money.
This ad network is based in London, UK and launched in 2014. Until now, MediaVenus has become quite popular, having millions of websites cooperating with it to make money. And it has more than 300m ads impressions on 257 countries (0.34 % CTR)
Advantages of MediaVenus:
Multi-language theme and user-friendly
Low traffic websites are accepted (500 visitors per day)
Support CPC and CPM ads separately, you can choose 1 of them or both
Average CPC price is $0.05/click (which is announced by them, you as a customer can only know whether it is true)
Responsive ads that display according to the context, targets, screen sizes. Fast loading speed
Weekly payment, from Monday to Friday, which means you can ask for payment at anytime.
Payment via: PayPal, Visa, WebMoney, ePayments, Capitalist, Paxum, Wire Transfer
Minimum payment of $500 with Wire Transfer and $15 with other payment methods
5. Media.net
Media.net is an advertising network that is supported by Yahoo and Bing, allowing publishers make money directly from advertising income like Google Adsense.
This ad network provides flexible and suitable themes for blogs and websites. It also displays advertisements for mobile phone and tablet users. With +80 billion ads display and +70 million ads clicks each single month (impressive statics).
At the moment, this advertising network doesn't allow all of the registrations but only for sites in English.
Media.net focuses on providing advertisement service for customers at such developed countries as US, Canada,Australia, Europe. If your website is in English and has many customers from US, UK or Australia, then don't hesitate to register to be a publisher.
This is a high quality advertising network, therefore your earning is also matching with quality of your website.

Bidvertiser is a long-standing Pay Per Click (PPC) advertisement network and was founded in 2003.
It would be suitable if the content of your site are videos, movies, photos or software. Advertisement formats are also diverse, including banner, mobile, text ads. This site is suitable for bloggers
BidVertiser creates an "auction" system allowing those who pay most to put ads on your website.
Therefore, if you have a high quality website, you will have the chance to have advertisements with great payment. You will be paid according to the number of clicks, not the number of displays.
Bidvertiser's advantages:
Reasonable payment: $10 with PayPal, $20 with Check and $50 with Bank Transfer
Support the most advertising types. It can also work along with other advertisement networks
Simple registration
Most of the websites are approved
Advertisement types: Pop, banner, mobile, full-page, slider ad, layer ads…
Suitable websites: games, software, videos, photos, movies, etc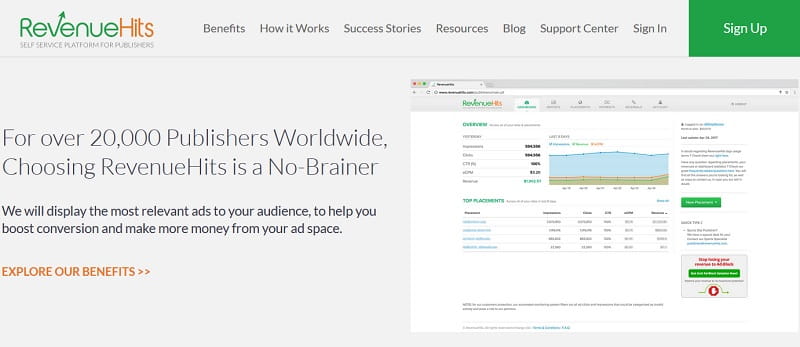 Revenuehits is the most popular advertising website at the current time. Website contents are fairly attractive and easy to use.
Registering to be a publisher is also fairly simple. What to notice is the traffic of your website and where they come from. If your customers are from developed nations, then rates are likely to be high.
RevenueHits is quite different comparing to others because it doesn't pay for every click or display but pays when the click turns into "action". When you click on the advertisement, you have to leave your personal information and these actions are paid. This type of advertising is favored by many people, meanwhile there are still a lot of disadvantages. However, you just need to register and you can instantly get ads, despite your blog or website being newly created.
Advantages:
High CPA rate
Payment ranging from $10-$50 depending on different payment methods
Many payment methods are supported
Fast activation of advertisements
Good support in the event of customers encountering problems
Many forms of advertising
No limits of devices
Monthly payment via PayPal, Payeer, Wire Transfer, with $20 minimum
Advertisement types: pop, banner, mobile, slider ad, layer ads, button…
Popads is a very famous advertisement website at the current time. They specialize in pop.
Your website just needs to have a good traffic to be able to register, no matter what your website is about. If your site has a lot of customers coming from America or developed countries then it is an advantage to make money.
Popads's advantage:
Most of the websites are approved, traffic not required
Fast payment via PayPal, Payoneer, Wire Transfer
Minimum payment of $5 with PayPal and Alertpay, $20 with Payoneer, $500 with Wire Transfer
Advertisement type: Pop
CPM rate is higher comparing to other networks
Your website needs to have a good traffic, no matter what the content is about
9. Adcash
Adcash is known to be the second biggest advertisement network after Google Adsense. It is in top 100 world biggest websites, which shows that its service is made use by a lot of people. Adcash has +200 million unique users per day on 249 countries and regions at +20 thousand active websites & apps.
If your website is about newspaper, software, videos, photos, etc, then Adcash is a good choice, and most of the advertisement websites are the same. CPM and "per click" price depend on different countries. Rates are higher from developed countries.
Simple registration, approved within 1 business day.
A lot of advertisement formats : Banner, Background, Mobile, Slide-in, Footer, Full Page
Minimum payment of $100 with PayPal, Payeer, Skrill, Wire Transfer, WebMoney.
Accept traffic from 196 countries.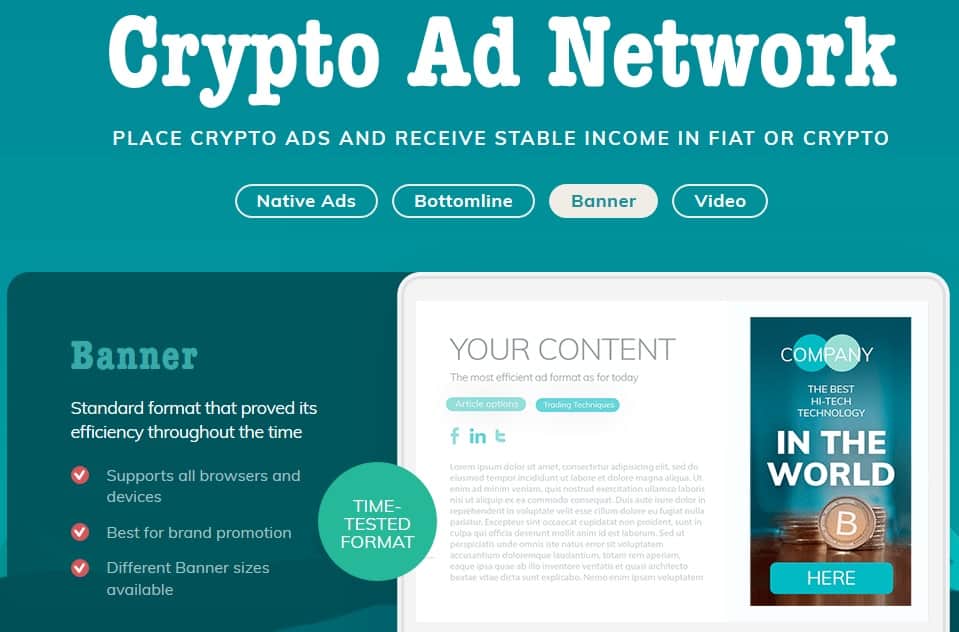 Within 2017, we witness the uprise of Blockchain technology in general and Cryptocurrency in specific.
Certainly, Blockchain will be a futural technology and upcoming year's trend would likely to be cryptocurrency, especially in 2019
TokenAd is Native advertisement network (natural advertisement according to original content), therefore it only displays advertisements related to Blockchain and Cryptocurrency.
If you have a website or blog about Blockchain or Cryptocurrency, it is advised to order TokenAd advertisements since the ads will display only related contents. This will dramatically increase exchange rates and profits through CPC and CPM
Conclusion
We recommend not to use many advertisement networks at a time. You can experience and see one of the two among them to see what works better or brings more profits. If you don't have a website or blog for yourself then you can start a blog for passion and earning right now.
For you, what is the best replacement of Google Adsense at the current time? Please let us know your perspectives and opinions in the comment section below.
Wish you success!