Open a bank account online with Payoneer for free to transfer money international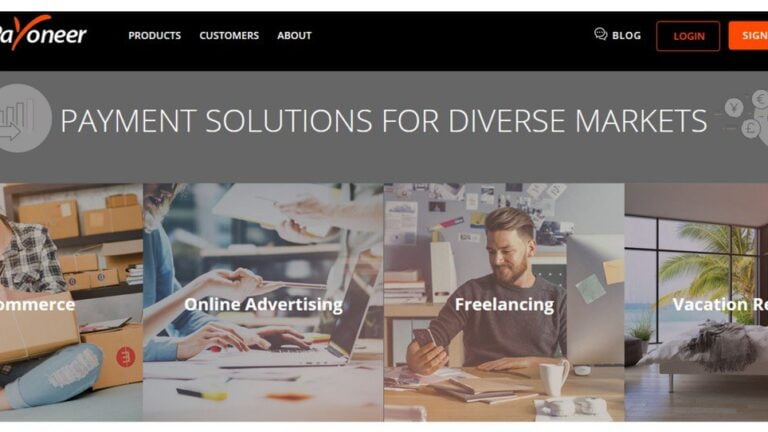 Last updated on
There are many benefits when creating a Payoneer account. You should open a bank account online with Payoneer for free and get $25 bonus also. With Payoneer, it helps you transfer money international easier and faster.
Payoneer is a financial services company (international payment gateway) that provides online money transfer and digital payment services. With Payoneer you can receive funds and withdraw your money directly to local bank. It can also be used at ATM machine from anywhere in the world.
Whatever you are a freelancer or marketer or a webmaster or blogger…who earning money online with legitimate ways (it should be like that) or you need to send money to your client….then Payoneer is your best payment method. Or if you are having payment problems with PayPal or other payment methods (or you come from one of the PayPal unsupported countries). Or you want to have a new payment service provider. For any reason, you should also have a Payoneer account for yourself.
1. Why Payoneer?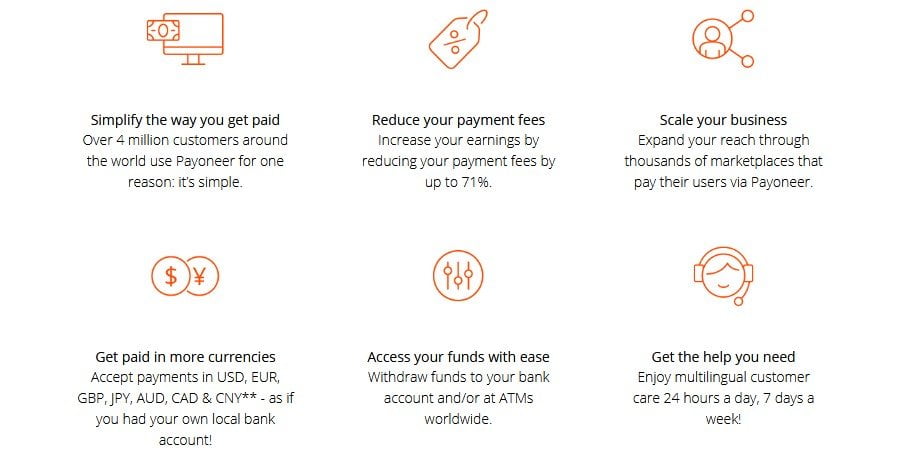 – Fist at all, it's free to sign up for Payoneer and it's easy also
Even you will get bonus when singing up, awesome. And you can sign up as an Individual or Company (this likes Personal and Business account on PayPal).


– Payoneer is the best payment solution provider i've ever used
I am totally satisfied with their services because they make money transfer easy and very fast. When using other online payment methods (PayPal, Skrill – Moneybooker…) you might know how difficult and delay it is to make money transactions (specially with withdrawal). I had ever a bad experience with PayPal (simple scenario: my employer paid me through PayPal all is clear but i didn't understand why PayPal limited my account in 180 days and i couldn't appeal the limitation by a reason that's high risk behavior). If you're using PayPal for online payment then you can read this article. There are some tips to avoid getting your PayPal account limited/blocked at the end of article.
When you withdraw your earnings from the marketplace (Freelancer, Upwork, Fiverr, Clickbank…) to Payoneer, your payment will arrive within 2 hours (it often only takes a few minutes) before it reflects to your Payoneer account (i am working on Freelancer site. If i withdraw my earnings to my PayPal account this will take some days to processing and i can do that twice a week only). And you will be also received an email notification so you are aware.

You can now withdraw from Payoneer account to your local bank account, and it's often same day (while PayPal and Moneybooker often take 4-5 business days). Wow, fabulous!

– Payoneer is safe and secure
They are committed :
"As a fully regulated US company, Payoneer takes financial security and payment regulations very seriously. We are a registered US Money Service Business (MSB) that has been in operation since 2005, and are certified at a PCI Level 1 Data Security Standard. We strictly adhere to a comprehensive set of global payment regulations in order to ensure the financial security of both Payoneer and our account holders, and have partnerships with banking partners and members of the Federal Deposit Insurance Corporation (FDIC)"
So you can be safe when using Payoneer services.
– With Payoneer, you can get paid in more currencies with higher exchange rates
When converting to your currency compared to PayPal or Skrill service. This is really great for everyone, specially for freelancer who counting every penny 🙂 And Payoneer save you up to 71% of the fees you pay through other payment methods (low fees and no hidden costs).

– Payoneer has also good customer service
So if you are facing any problem regarding the company's products or their services then you can contact them by sending a message or email, call them directly by phone, using live chat, look around with FAQs knowledge… They will try to solve your queries as promptly and effectively as soon as possible (usually in hours).
– You will also get bonus when sign up with Payoneer
They have  exclusive referral bonus offer for creating new account by using a referral link. And you can use this link to get that (remember, if you don't use the referral link then you will not get bonus when creating a Payoneer account). Payoneer will rewarded you $25 bonus when you receive a total of $1000 to your account. So i highly recommend you use referral link when opening your Payoneer account.
2. What can we do with Payoneer?
You can use Payoneer to withdraw money from your local bank or ATMs that supported by Payoneer.
You can send and receive money from your clients.
You can get paid from freelancing sites like Freelancer, Upwork, Elance, Fiverr…or affiliate networks like Clickbank, CJ, Impact Radius… (Collect payments from marketplaces) and Refer a friend programs also.
You can buy anything online all around the world (ie: Amazon, eBay, Godaddy, Namecheap, Stablehost…)
Bill your clients worldwide, send payment reminders and collect payments easily, directly with Payoneer. Anymore, you can collect funds in your local bank account.
If you also want to have a bank account in the US then you can apply for a Free Virtual US Bank.
The biggest benefit of Payoneer that's you don't need a local bank account link to Payoneer but you can still use Payoneer to receive payment from all over the world. What you need to do that's just to sign up for Payoneer Prepaid Account type. And Payoneer will offer you a debit master card then you can withdraw your money from any ATM machine. This is really great !
…

Note: when you use Payoneer for your payment method (make deposit or withdrawal…). You may need to provide Bank City (State, Zip) information. That's information of your Payoneer US virtual bank account. If you couldn't find it on your Payoneer account. Then you can get it via your Routing Code (Routing (ABA)). Getting it by searching with keywords "your Routing Code + your Bank name" on the search engines (Google, Bing…). For example: you can get Bank City information of the FIRST CENTURY BANK by comparing information from the picture below: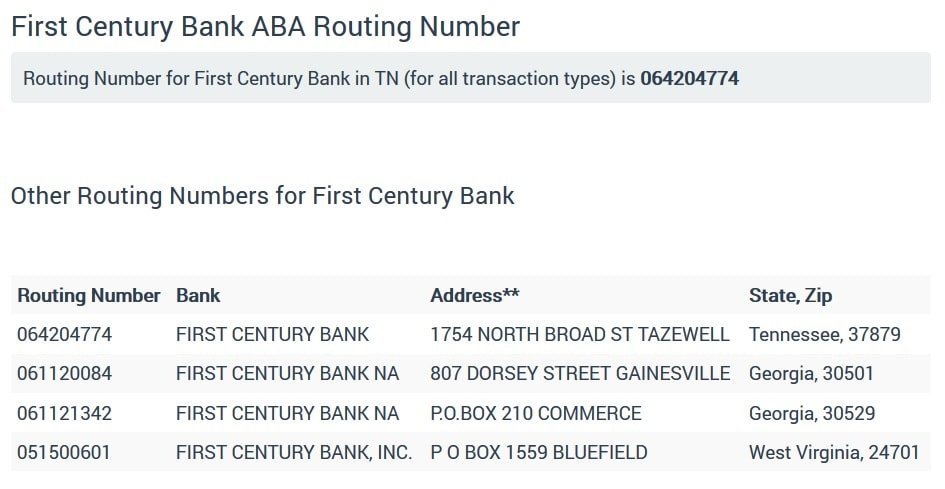 3. How to open a bank account online with Payoneer
You can easily create a Payoneer account that can be completed within 30 minutes. There are two ways to do that:
Direct Way
You need to visit the official website of Payoneer it's:  Payoneer.com and then sign up there. You need to be filling your information (real name, physical address, local bank account…), complete the steps of sign up process. When all done, then you will be received a confirmation email and Payoneer will be sent a Payoneer Master card also.
Indirect Way
You can open a Payoneer account from your marketplaces that deal with Payoneer (such as: Freelancer, Upwork, Elance, Fiverr…)
Note: you may need to provide your National ID card, Driving License or International Passport when Payoneer ask for verifying your Payoneer account.
4. Conclusion
With over 4 milions users, 200+ countries are included and 150+ different currencies support. Payoneer is one of the greatest and largest payments on the world. And it should be one of your best online payment system. It's free when signing up for Payoneer and get bonus from them also. Then you can transfer funds international. That's awesome !
I hope this article help you to open a Payoneer account with $25 bonus and received a Payoneer Master Card also. If you have any questions regarding Payoneer services, feel free to contact me or leave your comment below.