Common Questions & Answers about PayPal Account (Troubleshooting Queries)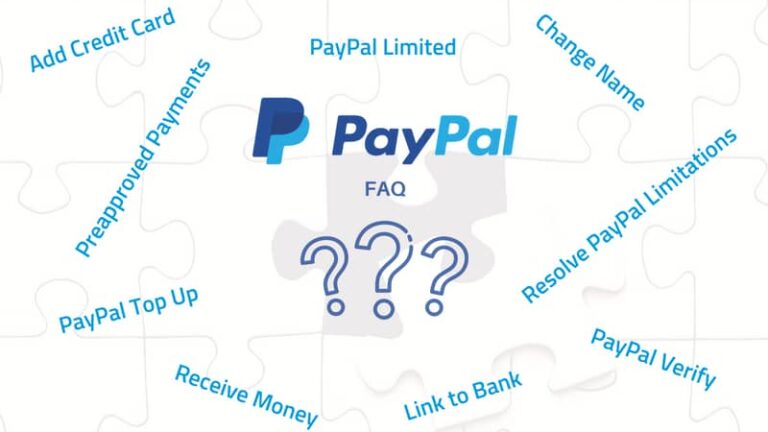 Last updated on
There are some of the most common questions and answers about PayPal: account limited, add credit card, link to bank, change information… All troubleshooting your queries.
After an article about PayPal: Create and setup a PayPal account to send and receive payments, we got a lot of questions related to PayPal accounts. In this article we will help you answers such questions of PayPal (FAQ).
Below are common questions that we ask when using a PayPal account (Q&A PayPal):
1. Why should we use PayPal?
Answer:
Very high security
Safe transactions for both sellers and buyers
Fast, safe and convenient payments. There is no need to fill out card information (Visa, MasterCard, etc) when shopping and paying internationally (the information is already added to PayPal)
Support "chargeback" function: customers can ask for refund after transferring to another account. However, "chargeback" usually requires a lot of proofs so think twice and carefully check before transferring. Nevertheless, PayPal's users absolutely have no worries of being deceived
Very good customer service
2. How many types of PayPal are there?
Answer: there are 3 types:
Personal: for customers who shop online. The amount you send and receive is limited (depending on whether you verify the account and remove the limitation or not). The advantage is the limiting ratio is low.
Premier: for those who buy/sell online (or make money online), including receiving and sending money. Limiting ratio is high (recommended)
Business: for those that have a huge amount of transaction. This type is for companies, organizations or a group of people. This type doesn't limit the amount of money you receive or send. You can log in your account from many IP without the fear of being limited.

Note: From April 25, 2018, PayPal Student* account type couldn't shopping online. And PayPal Student account type will be closed on September 22, 2018.
3. Is it okay not to verify Visa/Master card?
Answer: you don't need to verify to be able to use the basic features of PayPal like receiving and sending money. You can transfer to any banks that you register (local banks) then withdraw at an ATM or bank transaction section. However, if you don't verify your Visa/MasterCard, PayPal account will be locked after a while without any notifications, or even be limited the amount you send and receive. I advise you to confirm your Visa/MasterCard with PayPal.
Note: you can use all of the existing banks at your country, as long as they provide international payment service, Visa, MasterCard to connect with PayPal.
4. How much does it cost to maintain the PayPal account?
Answer: It is free to keep your PayPal account.
5. How to top-up your PayPal account?
Answer: you have 2 methods to top up your PayPal account (make deposit)
When you add and confirm your card (Visa, MasterCard) then it will automatically withdraw money from your card.
You ask another PayPal user to transfer money to your PayPal account (unrecommended because sources might be unsafe, your account is easily limited, locked).
6. Can we have many cards (Visa/MasterCard) ?
Answer: a Visa/MasterCard card is only used for a PayPal account cannot be used for a second account. But you can add many visa cards to a PayPal account to make payment.
7. Do you lose your account if it is hacked, your password is lost, your primary email is changed and your credit card is removed?
 Answer: A PayPal account cannot be lost. When you encounter above issues and cannot gain access to PayPal then just need to email or call PayPal support to ask for account security (contact support). In fact, PayPal has very high security so there's no need to worry.
8. PayPal login problem
Answer: when you log in your PayPal account, remember your password to log in successfully. Not remembering the password well and logging in many times might lead to your account being locked for security reason. Also note that don't log in your PayPal account on different computers, tablets or mobile phone (different IP addresses). Your account can also be limited and locked.
9. Are there any other more convenient ways to receive money with PayPal?
Answer: Yes. PayPal is currently supporting receiving money through PayPal.me, which is very fast. You can also create an account for yourself at: https://www.paypal.me/
10. Can ATM card verify your PayPal account?
Answer: No. It is only acceptable when the word Visa or MasterCard is on your card. ATM cards cannot be used with PayPal. Currently there are two commonly used cards: Visa Debit card and Visa Credit card.
11. Steps to get verify PayPal (link and confirm credit card)?
Answer: you need to log in your PayPal account and add your credit card. You provide the card number and fill out the CVV code on the back side. After this, PayPal will charge you a little a small amount of money on your card.
After that you contact the bank to ask for transactions and 4-digit code in PayPal's transaction (or use banking online service and check online transaction history). Then you re-log in your PayPal account and complete verification process by clicking on the card that you want to confirm and enter the 4-digit code and click Confirm.
Unlike Mooneybooker (Skrill), they will charge a small amount of money in your card and ask you to fill out the exact amount that they charge (2 decimal numbers).
12. Can we use others card (Visa/MasterCard) to verify PayPal?
Answer: Yes. PayPal doesn't check the name on the card. You can use anyone's card, any bank's card to verify your PayPal account, as long as you get 4-digit code in the transaction and get verified with PayPal.
13. My Visa card is already used to verify for an account, can I use it to verify another account?
Answer: No. Even if you remove the card, you still cannot use the card to verify another account. Of course you cannot add that card to another account to use.
14. Can I change name on my PayPal account?

Answer: Yes. In the event that your name is falsely registered, your account name doesn't appear correctly (not similar to your bank account) then you need to contact support of PayPal:
You log in to your PayPal account, and click on Profile on the left side Log Out then select Profile and settings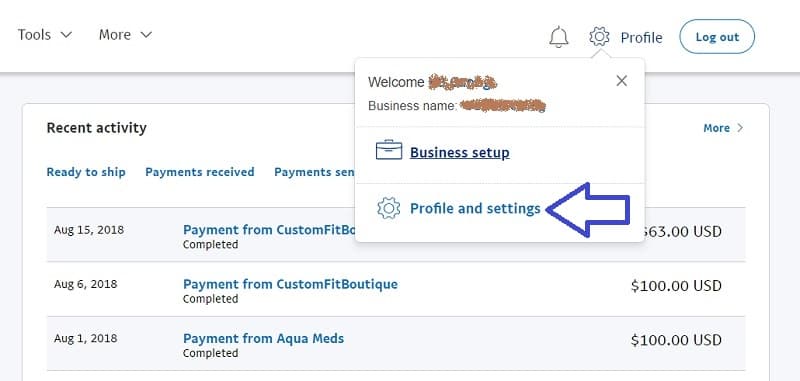 See Name section on the top (Business information section) and click on Change button at the right side.
Select an option you think it's reasonable and click Continue.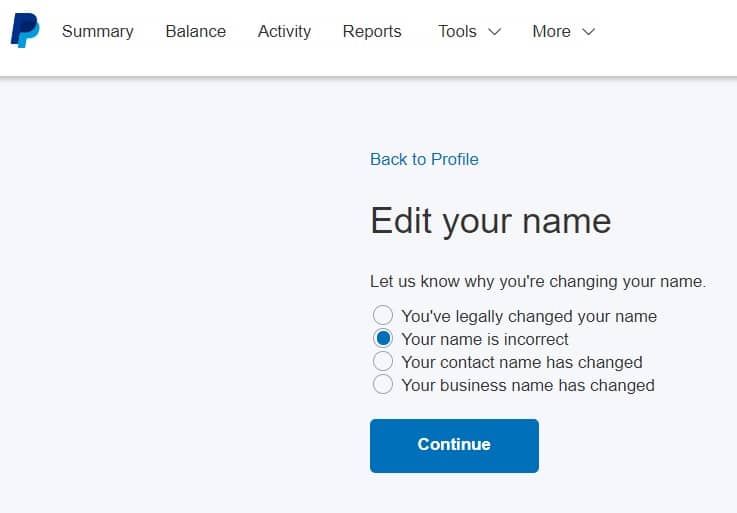 Then follow the instructions on the screen to complete your changes.
15. I have $50 in PayPal, I want to purchase a product for $100 then how can I do?

Answer: You still can purchase that product but you need to add $50 to your Visa Debit card. PayPal will use $50 on PayPal and take the other $50 from your card.
16. Why does my PayPal automatically pay the service?
Answer: Because you use a shopping service, transactions are automatically moved to PayPal to log in and pay. And one of these services and websites has authorized function for PayPal for example: GoDaddy, ClickBank…).
When being already authorized, transactions will be immediately carried out on the page without logging in PayPal (Preapproved Payment). You can turn this function off for services you don't want to be automatically charged. You can do that by following these steps below:
You log in to your PayPal account, and click on Profile then select Profile and settings
Click on Financial information section on the left side.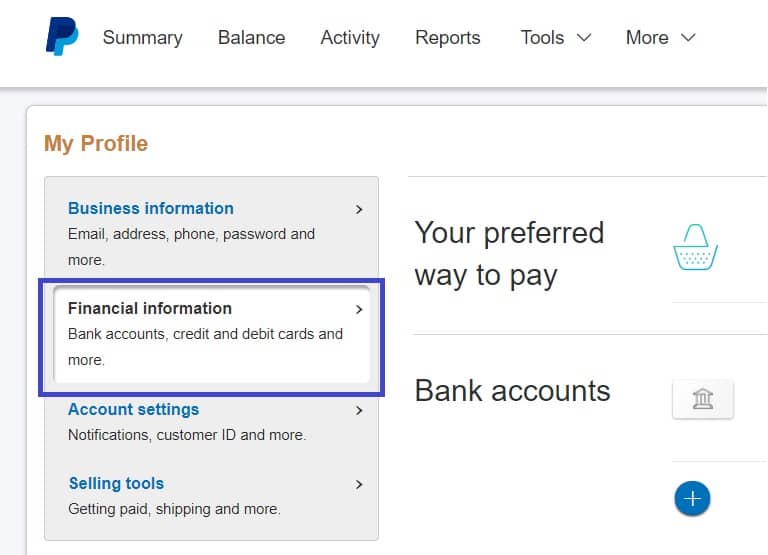 Look at Preapproved payments in the content at the right side and click on Mange Preapproved Payments(see screenshot below)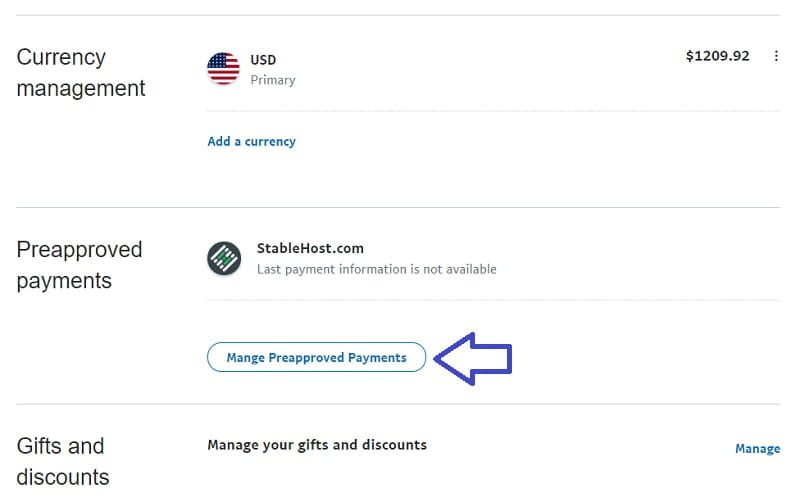 Select the Merchant you do not make automatically billed payments and click Cancel (inactive).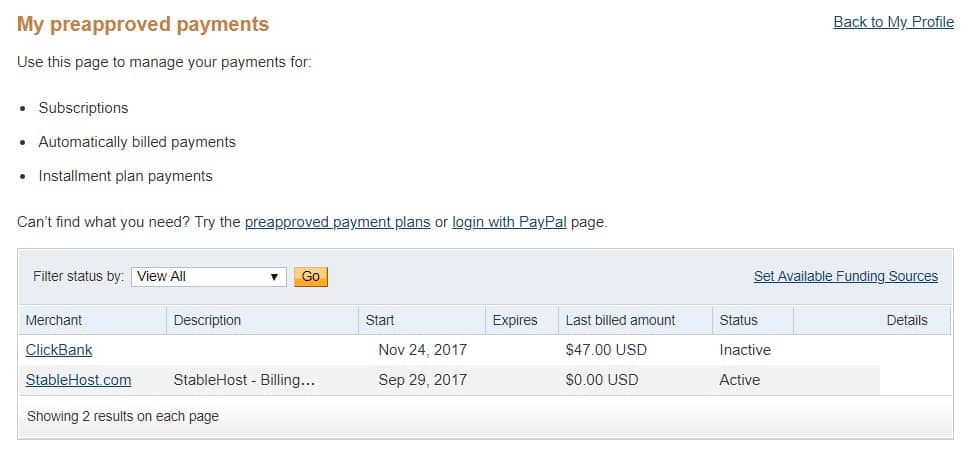 17. How to receive money to PayPal?
Answer: To receive money to your PayPal, you need to provide senders your email that is registered with PayPal. Besides, there also exist Merchant Secure ID which is secured ID for those who sell online. This method is more secured than PayPal Email.
You don't have to pay anything when receiving money to PayPal, but the sender has to pay the fee. However, senders can choose to charge some fees out of the money they send, therefore you should negotiate this with the sender in advance. A high or low fee depends on the amount of money and forms (Individual, Business, Buy/Sell, Gifts, Donate, etc) When you send as a Gift or Donate then no fees are charged. And when they send to your PayPal, you will receive it immediately.
Note: Besides, we can also transfer money in the form of "services": money will remain pending for 21 days then you can use it. This is for buying and selling products, services (an invoice will be created for this transaction). If you transfer the money and the service is unsatisfied, you can ask for refund.
Here is a "services" PayPal transaction (invoice received):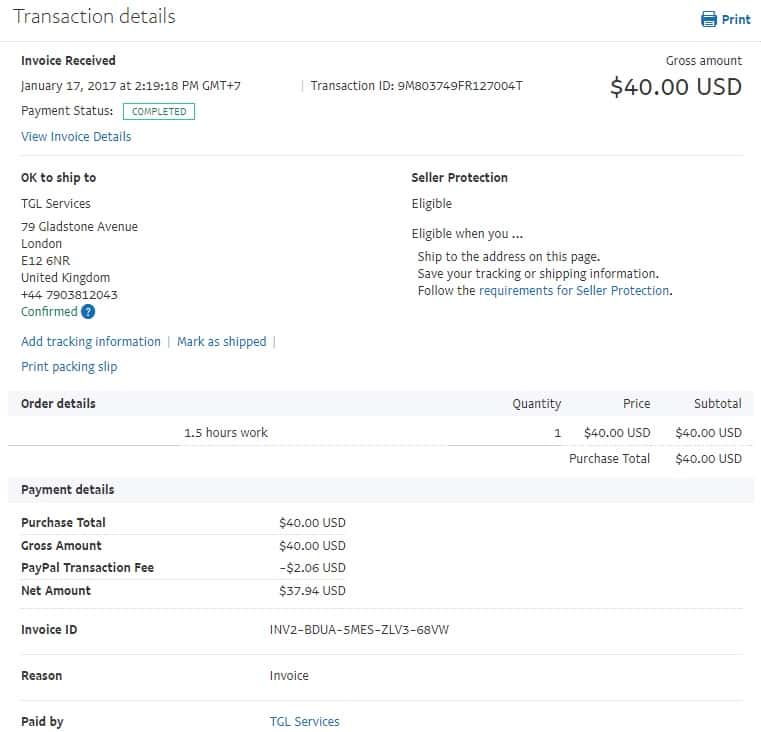 18. Can we register many PayPal accounts?
Answer: PayPal allows every individual to create 2 accounts maximally (with the same information like name, address) but with two different credit/debit cards for 2 accounts. And they must not be of the same form: which means you can create a Personal and Business account. But everyone should only create only one PayPal account for themselves (PayPal knows and warns you if you are detected to create a second account)
However a PayPal account can include many emails to receive money (7 emails maximally). One will be your primary emails and other ones will be optional.
19. Can we transfer money from PayPal to Payoneer, AlertPay, Paytm, etc and vice versa?
Answer: No. We cannot transfer money from PayPal to other online payment systems like Payoneer, AlertPay, Paytm, etc and these pages don't support transferring money to PayPal either.
There is one manual way, which is you withdraw from PayPal and top up those pages if you want to use.
20. Can we deposit cryptocurrency directly into PayPal?
Answer: No. You can not deposit cryptocurrency into your PayPal wallet. But PayPal may offer something like this later on 🙂
21. Besides PayPal, should we use other online payment service?
Answer: you can use Moneybookers (Skrill) or Payoneer. Skrill and Payoneer are very favored. Their service is also great as well. Normally you choose a payment method in accordance with what country you are from. The important thing is whether they support your country or not
22. Your PayPal account is limited. What does it mean?
Answer: "Limited" (limited transactions, unable to withdraw or send/receive money) is simply understood that PayPal limits your account usage until needed information is confirmed. In the meantime, you cannot send or withdraw with your account; however you can still receive money.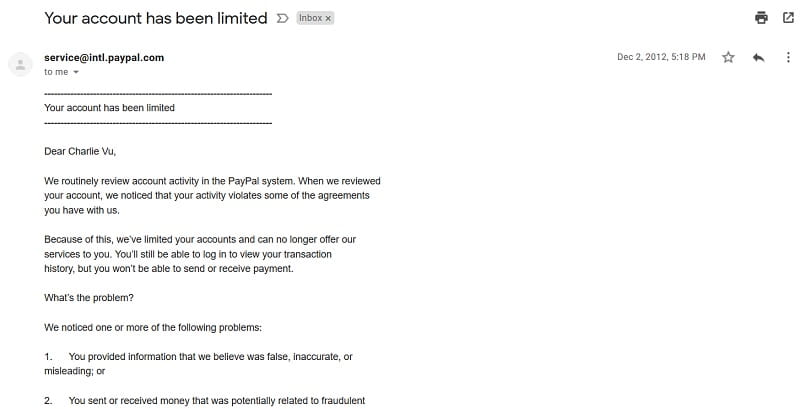 If you cannot remove "limited": then you have to wait for 180 days until PayPal allows you to transfer the money to you bank account.
23. Why is my PayPal account limited?
Answer: your account is limited due to some following reasons:
Register many PayPal accounts
Receive an abnormally huge amount of money
Too many transactions in a short period of time can lead to your account being suspended and limited
Being recognized to trade illegal products: depraved products, drugs, etc (against the law)
Login from many IPs
Many PayPal accounts on one computer
Send money to an account that is suspended to be illegal
Receive money from a suspended or violating account
The money is told to be stolen from other PayPal accounts
Change personal address too many times
Constantly add bank accounts
Etc
In conclusion, if PayPal detect any deception or abnormality it will limit your account first then it will deal with the problem later.
24. How to remove/resolve PayPal account limitations?
Answer: Limitation is actually PayPal's need to reconfirmed your personal information; therefore you can prepare such documents (take photos or scan)
Pictures of National ID, Passport or Drive License (2 sides)
Picture of credit card ( the number must be easy to see, especially the last 4 digits)
Electricity or water bill (utility bill)…that have your name and address on
Photocopy your bank account or credit card
Marriage license
Personal tax document
…
To remove limitation, log in your PayPal and choose the menu Resolution Center. From here scroll down and you can see requirements, click on Resolve to start removing limitation.
You start to upload pictures. After finishing uploading, click Send File beneath and allow PayPal's staffs to verify them. And you need to wait for PayPal to verify your information. Updated information will be sent to the email that is registered with PayPal.
Tip: you can remove limitation faster if you contact them at the number: +65-6510-4584
You will need to provide a code on Contact Us page for PayPal staff. This code changes every 30 minutes to verify that it's your PayPal account. Then they will ask you to confirm: Full Name, Birth, Address, Visa Card (added)…. This method is very quick to resolve PayPal Limitations, but requires you to have a good capability of spoken English 🙂
Conclusion
Above are common questions that most people ask when they use PayPal. If you have anything unclear, please let a comment below.