Make Money Online with ClixSense (ySense Paid Online Surveys for Beginners, Newbie)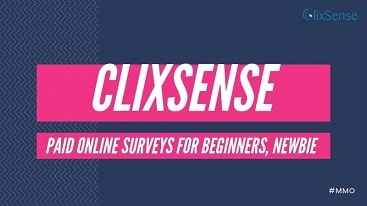 Last updated on
In this article we introduce a website to make money online for beginners, newbie. It's ClixSense. You can get paid by take online surveys.
You will earn money by doing online survey or do some other tasks, is quite effective.
This is one method of making money online legit and free for beginners. It is very suitable for beginners to start with MMO, because it does not require high qualifications, skills and experience. You can easily get paid surveys at home without investment.
ClixSense.com (now it's ySense)an online survey website (online rewards network) to make money leading reputable (founded in 2/2007). ClixSense was as a Paid-To-Click website (PTC) very good reputation. They have over 36 million members, the amount paid for membership nearly 200 million dollars.
Currently, ClixSense is considered as the best website to take surveys for money. You can get paid to take online surveys and tasks. For each survey completed you can earn a few dollars, usually between $0.6 – $5.00 and $0.02 – $2.00 for each task finish.
The minimum amount to be paid is $20, payment via Payoneer (fee: $2.00), Skrill for 1% fee (Moneybookers) and Tango Card for free fee (unfortunately, ClixSense don't support PayPal to withdraw your earnings).
ClixSense is 100% safe and reputable. So you are not too worried because ClixSense never commit fraud or any complaints, scam.
2. These ways, forms of making money at ClixSense
ClixSense offers 5 ways, forms of making money:
1. Surveys (Take Online Surveys)

This is the main form of making money on ClixSense. To do survey, you go Surveys section.
Here, you will find the survey available (if it's available for you. You need to update your profiles before answering the surveys questions).
These surveys typically ask about preferences, consumer demand for a certain product, you simply tick the answer that suits you best.
You can know about the estimated time (each survey usually takes about 5-30 minutes to complete) and the price of the survey when you completed.
There are 2 types of survey:
Surveys Invites: you will be invited to take surveys by suppliers through email or notification.
Daily Survey Routers: you can access and take survey routers per day by go to Survey section from your navigation.
After answering all questions of the survey, you will be added shortly corresponding amount of money of the survey to your account balance.
Notice your email, ClixSense will email to you when there is a new survey for you to join.
2. Offers

You can do offers by going to Offers section.
ClixSense have almost all the wall that you can offer choices: More TV Time, Persona.ly, TrialPay, OfferToro, Wannads, Adscend, AdGate, KiwiWall…
Most of the work you need to do with offer that is viewing great content, requests confirmation, find and buy a cheapest product… This depends on the offer you work on.
After completing one offer, you can get the payment immediately, while some other offer requires you to wait 1-2 weeks, even 1 month.
3. Complete Tasks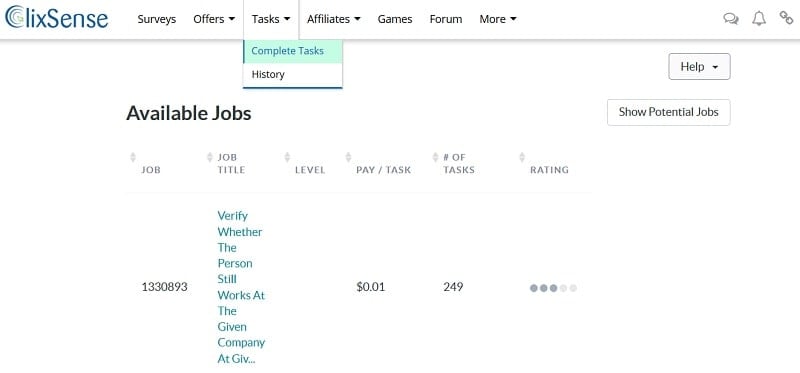 You need to go to the Tasks section to complete tasks, where you will find the tasks that need doing (available jobs)
These tasks are provided by CrowdFlower, 1 crowdsourcing service that allows users to do small tasks to make money.
You click on any jobs, then create one CrowdFlower account and do following what's requirement of job.
After completion, you will receive the corresponding bonus $0.01 – $1.00 per task
4. Affiliate Program

It is considered as a very effective way to make money if you attract many users registered through your referral link.
You need to log in your ClixSense account and copy Affiliate Link (on homepage or your profile):
Specifically:
You introduce others to join ClixSense through your ref link to register, you will receive a bonus commission (from $0.10 or $0.30 this depends on the country registered).
You will receive immediately $2.00 for each person registered with your referal link but they must earned at least $5.00 from ClixSense. It would be $5.00 comission if they come from top tier countries like Denmark, Finland, Norway and Sweden.
You will get 20% commission for each survey, task or offer what your referrals do.
5. Play Game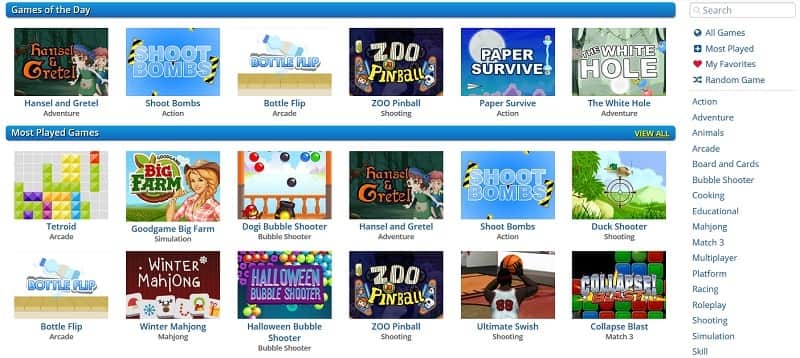 In addition to the main forms of making money from ClixSense, you can play a lot of these kind of games to relax but still get paid when you reach the required scores, level…
Here are including strategy games, classic games, puzzle…
3. How to withdraw payment from ClixSense
To withdraw your earnings from ClixSense, you need to earn much more than the minimum $20. However, you need to add a payment method. From Profile and Settings go to Payments section and add your preferred method of payment.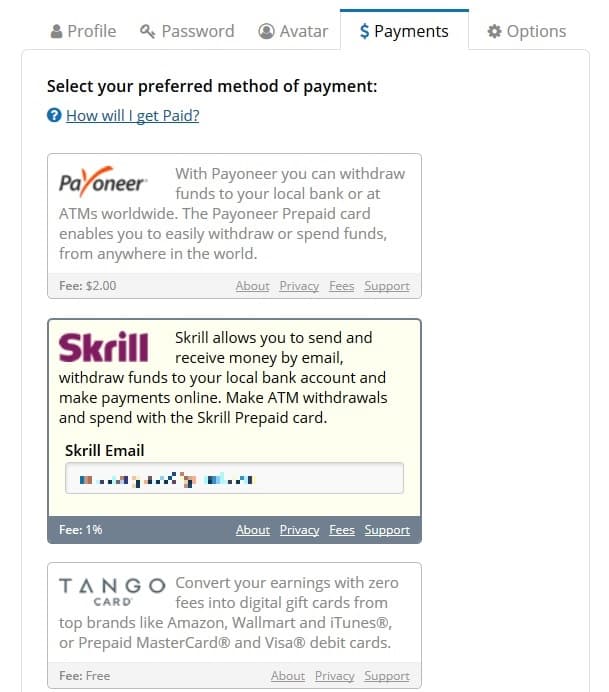 Note: if you choose Payoneer then you must have a balance of at least $50 to withdraw funds (Cashout button only appears beside amount of money in your ClixSense account when your balance reaches a minimum payment).
To withdraw your earnings, you need to click on the Cashout button then enter the amount you want to withdraw and then click Submit button to make a withdrawal. And you will receive the money after 4-5 business days, in some cases may take longer.
4. What to notices when working on ClixSense
ClixSense only lets you register one account on one computer. And you only logged on 3 different IP addresses in a month.
Absolutely, don't use Cheatbox, Auto Tools to complete your surveys, tasks, offers… ClixSense can lock your account and the entire amount of money you have will also be frozen.
If your account is locked without violating any conditions, you can contact the support to help. You will get maximum support to get back your account.
You can visit Forum of ClixSense to read and debate about the latest news and updates. However, you can get support from ClixSense community.
You should install the ClixAddon plugin into your browsers to receive instantly notification of the survey and new tasks when they become available (this plugin is available for desktop browsers only)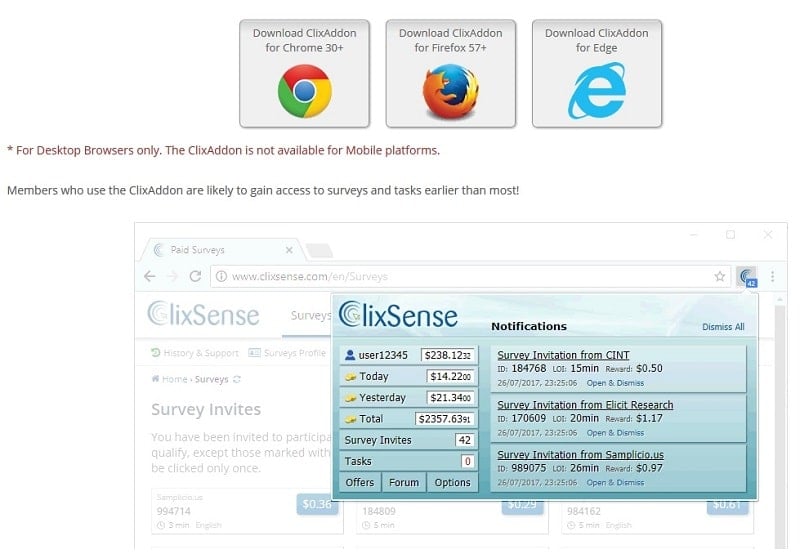 * When you already logged in ClixSense you will see them (ClixAddon and Forum links) on homepage.