How to Start Earning Money Online at Freelancer.com (Guide Details Steps)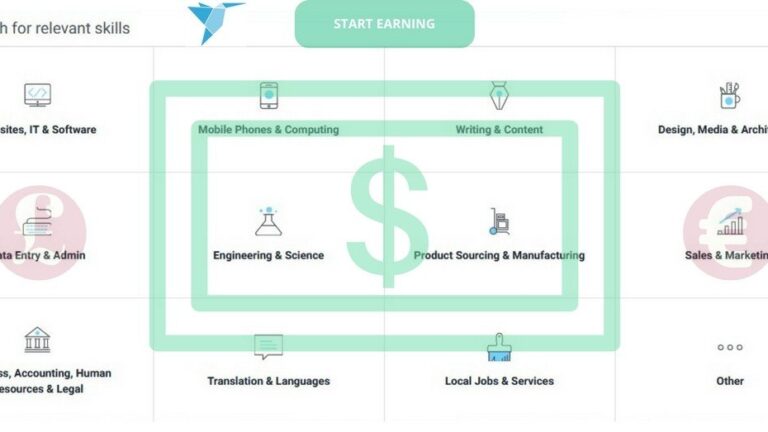 Last updated on
In this article i will tell you what you need to start earning money online at Freelancer.com (guide with details steps). This is one of the legitimate ways to earn money online. Read more here.
As u know Freelancer.com is one of the biggest freelance website, a marketplace of ideas, skills, and freelancing/outsourcing/crowdsourcing to connect freelancers with varied skills across the world where anyone can work on what they are good at (this is real site for everyone can work it and earn their money from). If you want to start your career as a freelancer or you want to hire a freelancer both easy to get started and get work done with Freelancer. You can join it and start to working now by following these steps below :
1. Get started (Sign Up)
Go to Freelancer.com and there are two options to sign up with them (its free when signing up and working on Freelancer). You can click the Sign Up button on the top right or click on I want to Work button (see screenshot attached below for clearly):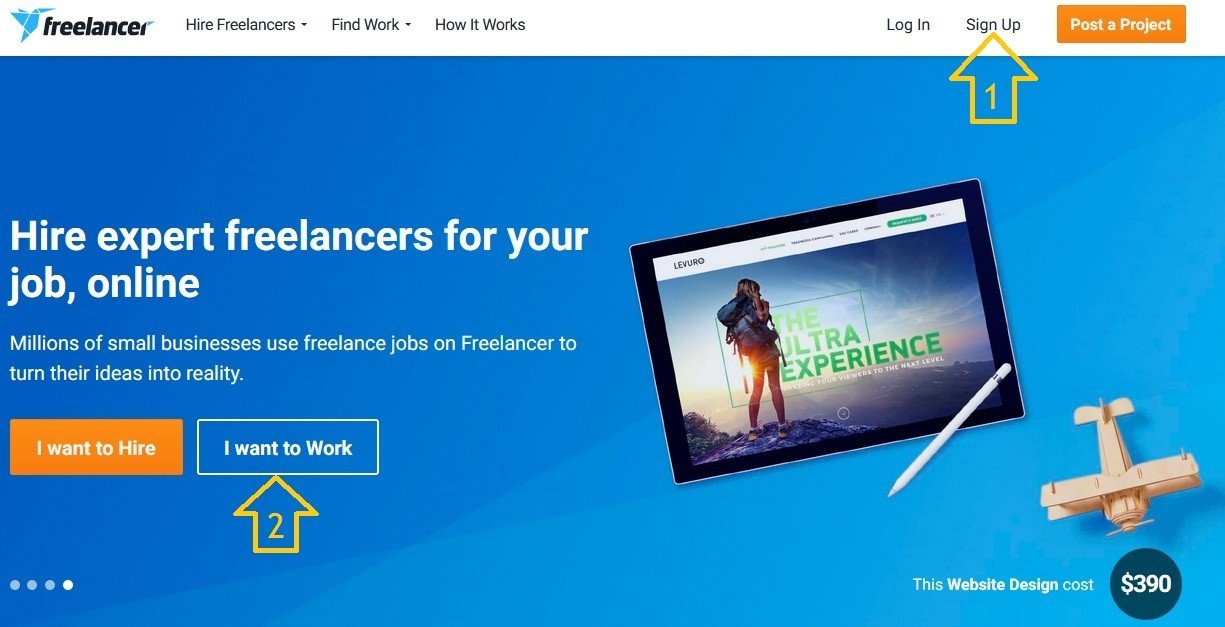 After clicked the Sign Up button, you will be taken to a sign up page where you need to enter your account details such as email address, username and password (or you can also sign up with Facebook account by clicking on Sign up with Facebook button this depends on you). After entering your account details, please click on the Create Account button at the bottom page.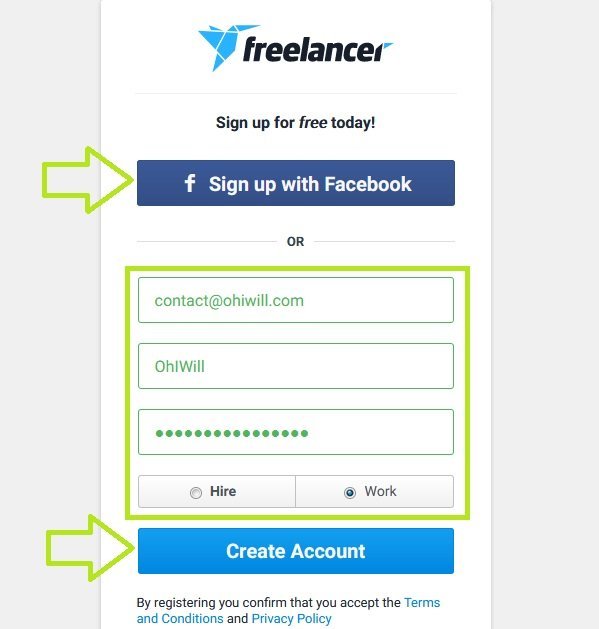 Then you will need to verify your email with Freelancer by open your email registed with Freelancer (if you could not find out email from Freelancer, maybe it will be in Spam or Bulk folder of your email) and click on Verify Your Email button and you are done with registration of Freelancer site.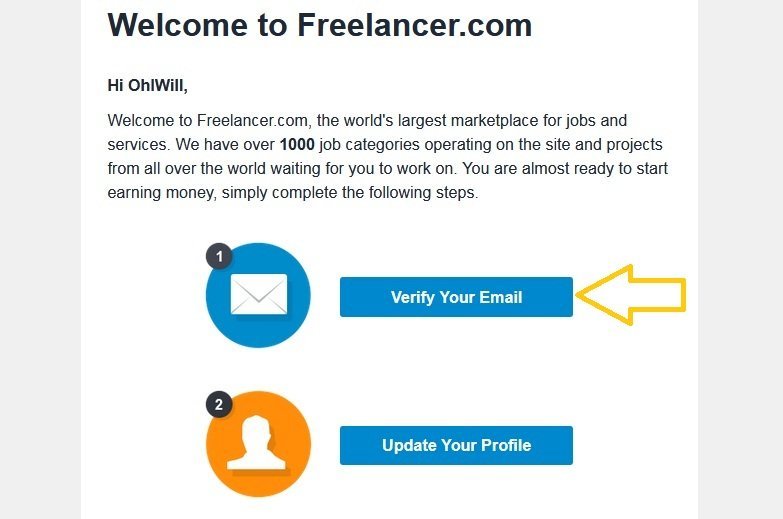 2. Update Your Profile
This is necessary (as Freelancer also told you in verification email, that's step 2 after verify email) because it introduces your personality, portfolio and skills with everyone, specially with your employer/buyer (hiring you or not by how well you present yourself in profile).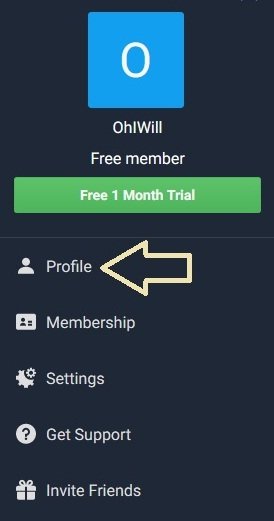 To do this please click on your logo on the top right. It will be the first letter of your username because we still havent upload profile logo (in my case its "O" that's first letter in my username "OhIWill"). Or click on Update Your Profile button in verification email of Freelancer sent to.
You will get a good project from the employer/buyer if they impress you with all the information given in your good profile :
Upload a profile photo professional & clearly
Use real name or inspired name which impress the idea
Write your summary in short and perfect
Keep your best work on portfolio
Select your skills (what you are good at)
Maintain your interst resume
…
Try to complete all of sections in your profile (you can see your profile what is completed in percentage on the right side of your profile page).
3. Find Projects and Bidding
On Freelancer we are having hundreds of projects & contests in different categories are posted each day.
– Find projects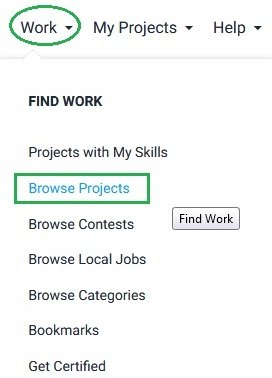 Finding projects & contests on freelancer is not difficult, you need to find project & contest according to your interests and skills (find the one you want to work about what you are good at).
To do this, hover your mouse over Work link on top menu, it will be showing a drop down list with sub menus where you can find projects by click on Browse Projects (or you can select Project with My Skills this is god also) tab.
On the projects list page then you should find the projects by skills with filtering that will help the projects are clearly and match with your skills for sure  what you wish to see (by using the more filters you change, the more specific the list of projects will be shown and itseasier for you to choose). I always do this when finding own projects, it took me focus on my project what i think i can do and complete them.
– Start bidding
Select your interest/preferred project from the project list by hovering your mouse over it and clicking on Bid Now button (i recommend which the projecst with payment verfied tick because the employer of these projects is clearly with payment method and he has already money into his Freelancer account. You can see screenshot attached below for vision). Or you can click on project title and go to project detail (you can read the project with full description here). When you make sure you can do the work and deliver it on time then click on Bid on This Project button.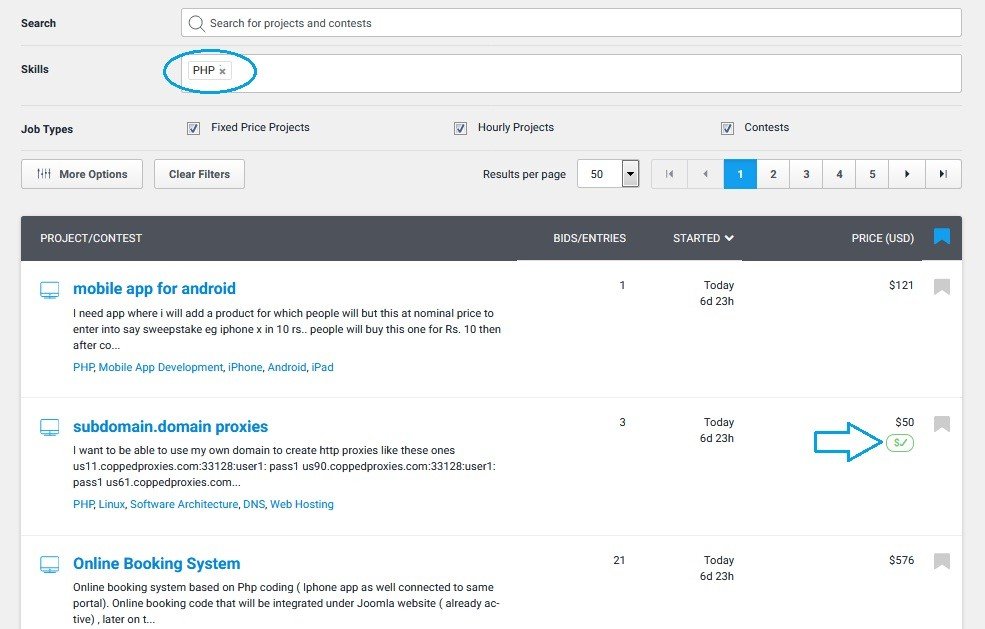 For the next you need to fill out the required fields into form bid with the bid amount and delivery time… then click Place Bid button. Compose your proposal by write about what did you read and check with their project this will let your employer know you have read through full project description in Bid Summary (and reason why the employer should choose you instead of everyone else)section then click Update button. On the next section Describe your relevant skills and experience for this project you will talk about your experience, diploma, skills, portfolio…continue click Update button go to the next section.
On the Proposed Milestones you can create some milestones on project, this depends on your plan when working on project with these steps and amount for each phase. Then click Submit Proposal button and you're done with bidding on project.
4. Work
If employer (who owner of project you already bidded on) contact you by chat box this is very important because you can not contact, chat with emloyer even you can not check and review your employer profile ultill they contact you first (i hate this but its rule of Freelancer site).
When you and your employer in chat box both can talk about something like project description, deadlines, payment method…If they really want to hire you for their jobs then they will award you on their project, you will also get notification into your dashboard and sending a email to you also.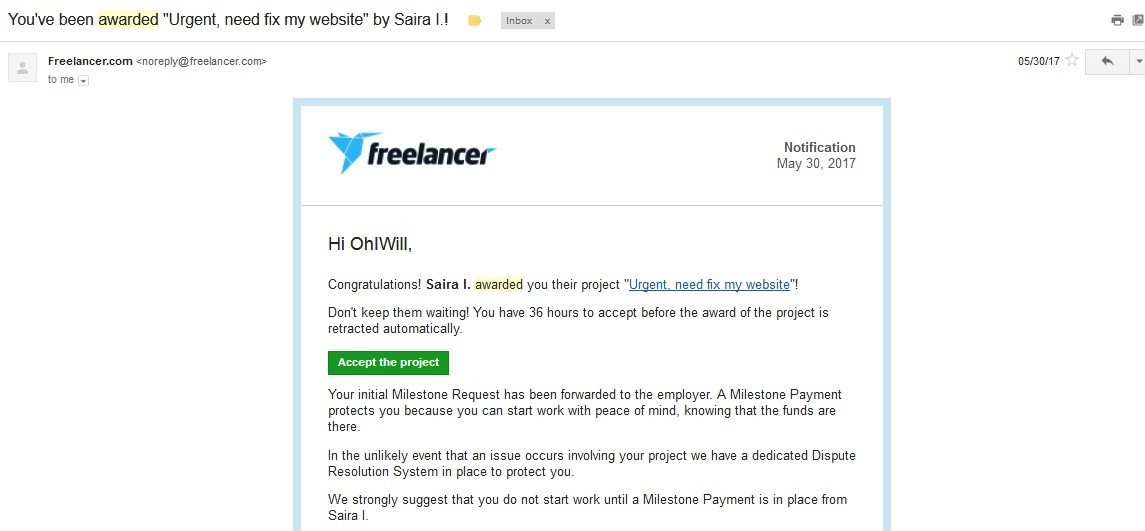 Before starting work, you need to make sure that you and employer are in terms of project scope and clear everything this will decides about project is completed and you get paid with all of 5 stars + good feedback. Go through all of them then click on Accept the project button (maybe you need to refresh your project page for showing that).
5. Get Paid and Good Feedback
When your jobs is completed and delivered to your employer, they will release milestones (what you created when bidding on their project), when these milestones already released that means you get paid at work, then your project will be completed status.
For the next things, you need to talk with your employer give you all of 5 stars review and leave you good feedback, this should be quick than better. For example: "I hope we will work together in the future, if you need anything else please message me here on chat box. Can you please give me all of 5 stars and good feedback. Thanks so much". Follow this way i usually get five-stars and good feedback on my own projects 🙂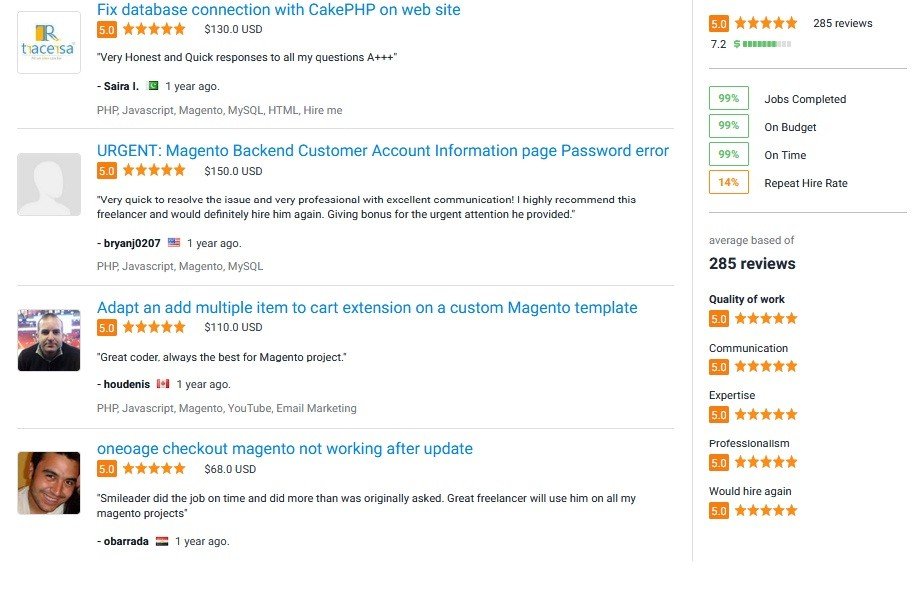 Then you give your employer good reviews also and tell him contact you if he has new projects.
Note: here are some tips for you're scoring high chances of getting awarded for the projects (it took me around 2 weeks to get my first dollar on Freelancer site):
Read carefully project description
Make sure you can complete the project
Bid on the project with your best price
Check the profile of your employer to understand more about them
Write in your proposal: you have read project description (talk about their project), your experience (highlight)
Think about what your employer who hiring you wanting to wait, wanting to know…
You can tell your employer, he can pay you when the project is completed (it should be like this because you're beginner)
You're ready start working right away and keep them updated.
Or anything else you think they want to know before hiring you
…
I hope this will help you start working smoothly on Freelancer.com !
Leave your comment below you need some helps.