How to Start a Blog with WordPress (Passion and Earning)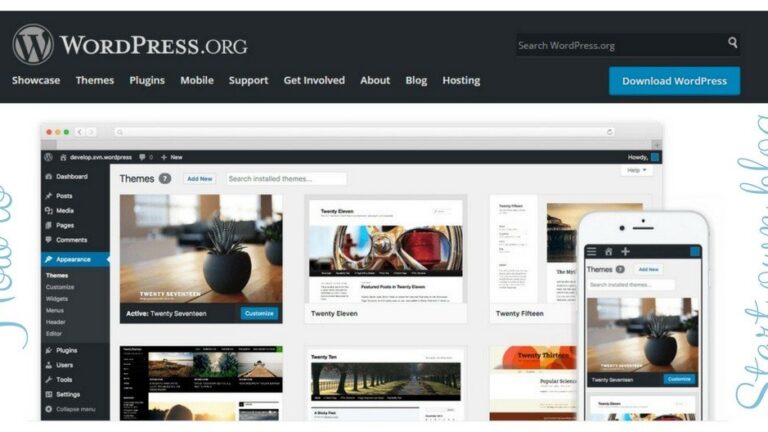 Last updated on
In this article we will help you start own blog with WordPress (step by step guide). For some reasons, you can want to get a blog by your favourite, passion or you also want to earn money from it. However we should to start a blog for ourself that's really interesting.
I think who has also this dream that's a lot of fun. But where is the starting point ? You can find out very informative on the internet and you're confusing. Hold up, i have ever been a blogging newbie too but as you know I'm starting my blog and it's been fun time since i started. So don't worry, i will help you do that with basic steps to running it ,easy to understand…
Why you should start a blog with WordPress
Why you should create a blog for yourself !?

It may be your passion or something like introduce about yourself (diary), your family , your products, favourite…and want to earn money from it… I think you already knew what are you doing. Howsoever, we should to build a blog and you will be funny feeling when start it.

And why it should be WordPress platform !?

Because its most popular blog platform (it's the biggest blogging platforms in the world, with over 40% of all websites/blogs use WordPress). And it has a ton of theme, plugins (over 45k), add-ons …to help you design layout for your blog look functionality and form (they're insanely simple to install, set up and easy/free to use also). With WordPress we have powerful features: SEO friendly, responsive layout, high security and performance… Anymore, WordPress has great community support so you can interact with them easily when you get something stuck then they will to help you out.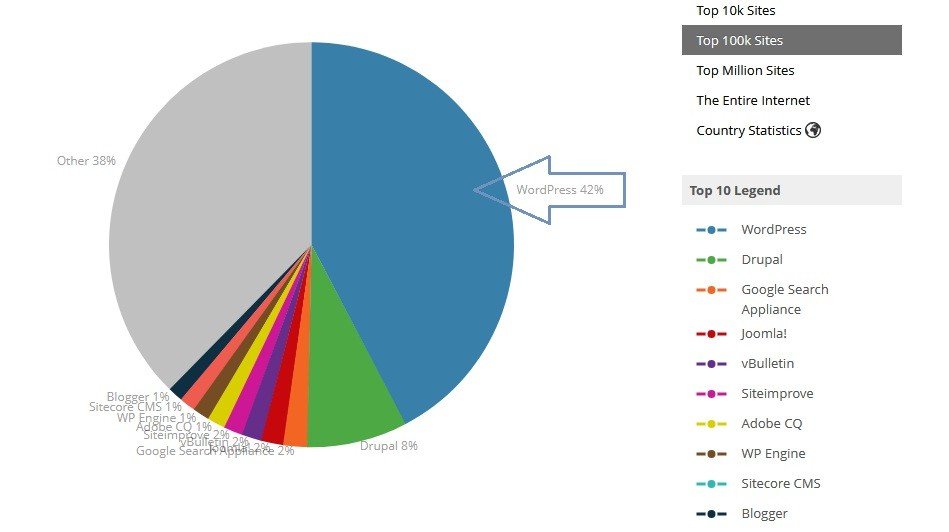 There are five main steps to start a blog (please follow them and you will have your own blog that's running right away) :
Choose your blog topic
Picking a domain for your blog
Choose web hosting for your blog
Install WordPress on your hosting
Set up and design your blog
1. Choose your blog topic
Firstly, if you want to start your blog, you must have a topic or niche in mind. It's not a must but this is very important. Most of people started blogging without knowing what to focus on. You need to know what would you want to talk about !? What is your topic ? What you want to share ? Your products ? Your niche …?
Whatever your reason that should be what you are interested in. You may not be an expert in your topic but you will always wan to learn more about it. At least, this will makes you happy when working on it. It is one of the best conditions to help you success in your field.
Here are some of the topics for you reference:
Cryptocurrency
Technical Coding
Sponsor posts
Earn money
Social Marketing
Education
Finding jobs
Gaming
SEO
Design
Promotions
Travel
Review products
…
Summary, your topic should be what you are good at or you are interested in.
2. Picking a domain for your blog
The next step is picking a domain name for your blog. This is one of the most interesting parts when creating a blog 🙂
Domain name: The domain name is basically the URL of your blog . For examples: the domain name for this blog is ohiwill.com
If you are new to starting a blog (you haven't available own domain) then i would recommend that you register your domain on GoDaddy, NameCheap (cheapest), HostGator or Stablehost site. Here are the top 11 best domainregistrars (Pros and Cons) for you take a look. About the price that depends on the time so you can check and compare them then decide to buy their service.

I guess the domain you are thinking about that is already taken. This is normal because you are thinking of the most competitive/popular domains around. You should try it with your name or your product for domain name (it's better with .com domain, its the popular and easy to recognize).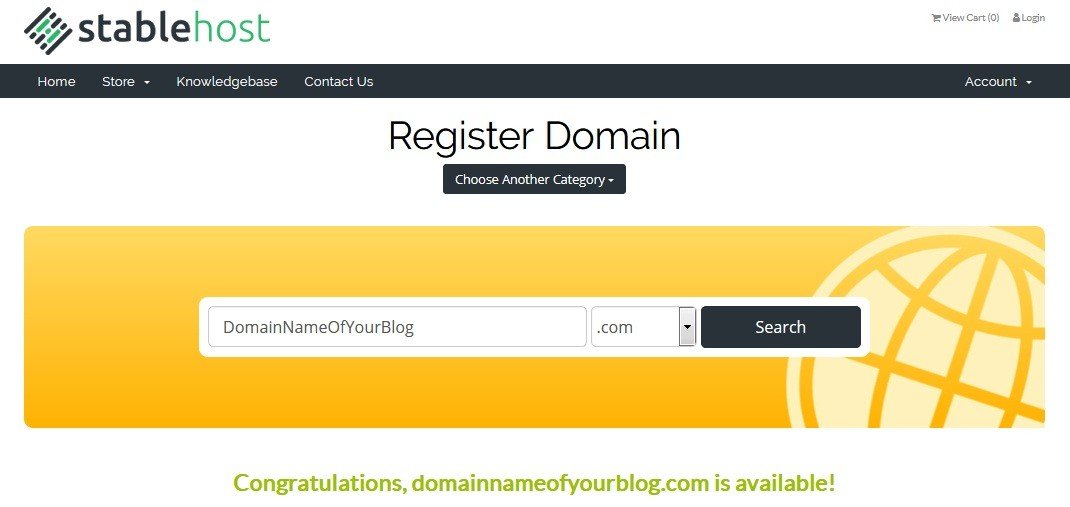 Here are some tips for choosing the perfect domain name for your blog:
Keep it shortest if it can : you don't want to type a long domain name in your address bar to visit a website/blog right?
Make it is easy to type and pronounce: because it will be easy to type and remember domain name of your blog (the visitor won't be mistyping or misspelling it)
Use topic name, keywords or your niche in domain name: try using them that describe your blog, niche…what is the services you offer.
Avoid numbers and hyphens: number, hyphens or special character are often misunderstood and difficult to type them.
…
3. Choose web hosting for your blog
What is web hosting ? Web hosting is a service where your blog is stored online. You need a web hosting that allows your website or blog to be found by everyone on the internet. There are thousands of web hosting companies around which offer different types of hosting for a variety of different types of websites or blog.
Not all of them are good so you must choose one of them but how do you choose what is the best hosting ? In my experience when choosing the hosting/server, we should to put the quality, stability, user-friendly first (easy installation, setting up…), then be the price. Because if you pick the wrong hosting/server with low quality, you will have headaches with your site is down, many errors, bandwidth limit exceeded, lost visitors, customers, slow support…Personally, i highly recommend Stablehost.com for you because i'm using their services and it is really great (not limited to disk space, bandwidth, even number of domain names…). You can read this article for more details and get latest coupon codes for your blog also: Latest Stablehost coupons and promotions, the best hosting provider trending in 2018

Remember: if you're unhappy with your Stablehost services purchase within 45 days, they offer your money back guarantee.
4. Install WordPress on your hosting
For any reason you don't want to go with Stablehost hosting, feel free to choose your own hosting company that's good also (most of them, you will have "one-click" WordPress install solution on admin panel). But in this article i will help you install WordPress on Stablehost hosting. I assumed that you've signed up and purchased services from Stablehost.com hosting.
Firstly, what you need to do is to login to your Stablehost account with the credentials of Cpanel they sent you in the welcome email. Then finding "Softaculous Apps Installer" section, you will see logo & name of WordPress there. Click on it you can install WordPress on your domain using easy one click install solution.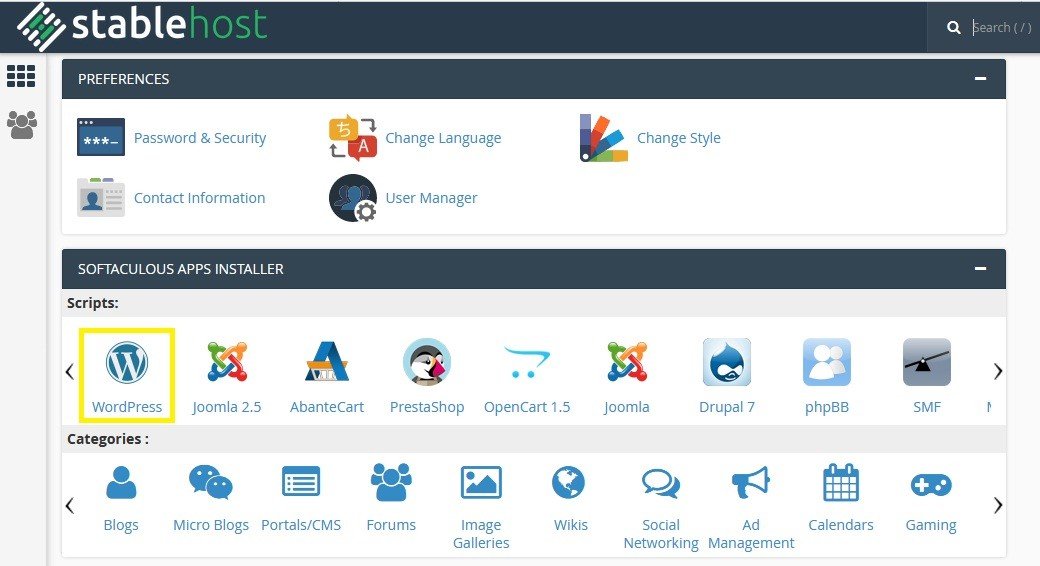 On the next page please click on Install Now button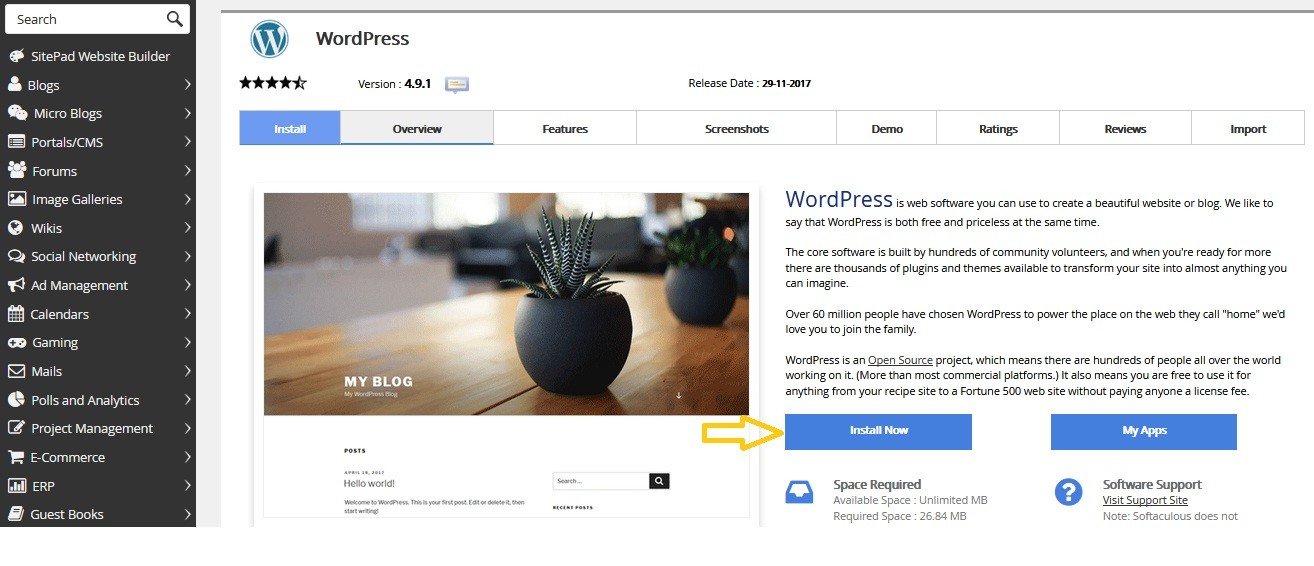 On the next stage, here you need to enter some information of your blog such as (guide with details in description): Domain, In Directory, Site Name, Site Description, Admin Username, Admin Password, Admin Email … then please click on Install button.
WordPress of your blog is then automatically installed on your domain in a few moments. You will get an email from Softaculous with all your install credentials (to get this you need enter your email in field: "Email installation details to" in Advanced Options section)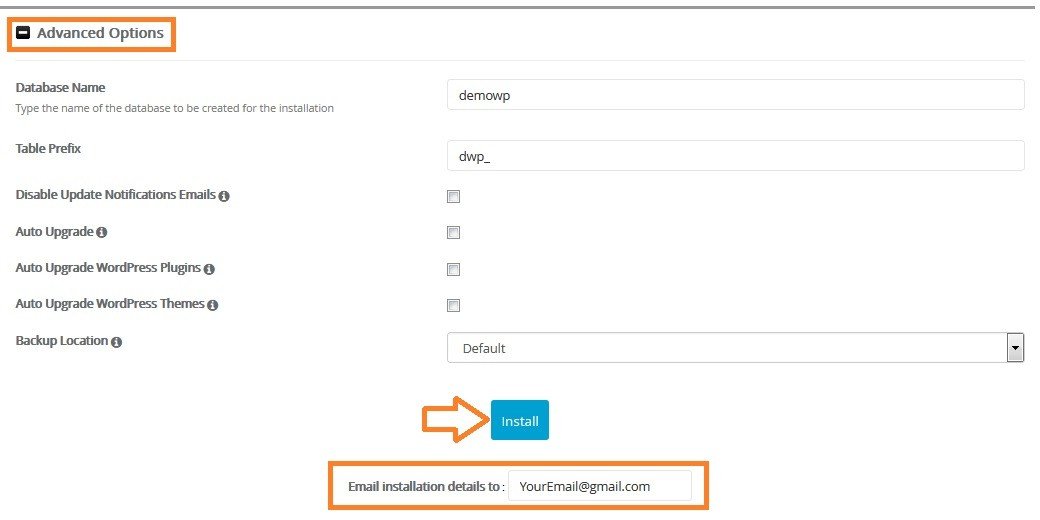 Note: if you don't like install WordPress by one click installation on Cpanel you can download WordPress package on WordPress.org site then upload it in the root directory of your hosting and create a new database on your Cpanel also, then install it with manual installation (i would recommend this for who have knowledge with web development).
Don't worry, i'm here to help you if you get some stuck on this progress. You can always contact me for help by using contact page or leave your comment below this article (its free of charge for sure). I'm glad to help you !
5. Set up and design your blog
After installing WordPress (your blog is built), you need to log in to your dashboard by type something like : YourBlogDomainName.com/wp-admin in address bar of our browser and log in to it with your admin information when installing WordPress.
Now your blog is working with default theme of WordPress, you can use it or add a new theme that has all of the functions that you need which you can customize. You need to choose a theme that fits with your goals (layout, functions, tools…). With free theme, most of them are simple, it's poor functions, utilities…this is difficult when customizing and designing your blog. For better, you can find some premium themes on ThemeForest.net and purchase a theme for around $35. This is really great (looks professional and easy to customise) for you design your blog appearance.
You to change themes with just a few clicks by move the mouse over "Appearance" tab on the left sidebar of WordPress Dashboard, and then click on "Themes". The next things you click on Add New button to go to page for choose theme adding.

On this page,you can add new theme by upload your theme (ie: paid theme with .zip file) with click on Upload Theme button or install some themes already there by click on Install button.

For the next things, you can change : Site Title, Tagline (in Setting->General menu) or Homepage displays, number of posts or recent posts show (in Setting->Reading) or Structure URL of your blog, Tag base (in Setting->Permalink) or add new menus (in Appearance->Menus) …And write your first article (in Posts->Add New menu) then publish it.
Now, your blog is getting ready to launch and you will need to be growing your blog traffic (get more visitors). To do this, you can refer to this article: The ways to get more visitors to your blogs (increasing traffic without investment)
And start your own blog this is one of the legitimate ways to earn money online (you can find out other ways to make money here: The legitimate ways to earn money online at home (also for beginner)). You can earn money (monetization) from your blog when it's enough traffic, subscribers, contents…with affiliate program, advertising, sponsored/paid posts, create a product then sell it… . And if you're success on this we can say you're earning money from your passion. Big smiles for this 🙂
Conclusion
Starting a blog that's easy to go, but creating a successful one requires hard work for sure. So you must schedule enough time to research then write, keep up a ready-made list of ideas for your articles and keep yourself enthusiastic with blogging.
And here are the 5 Keys for developing a great blog (Plan Notes and Strategies) this will help you develop your blog.
We wish you success !
Please tell me in the comments if you get any problems when processing these steps in this post. It will be a pleasure to help you.