Wanting to Buy a Domain Name ? Top 11 Best Domain Registrars (Pros and Cons)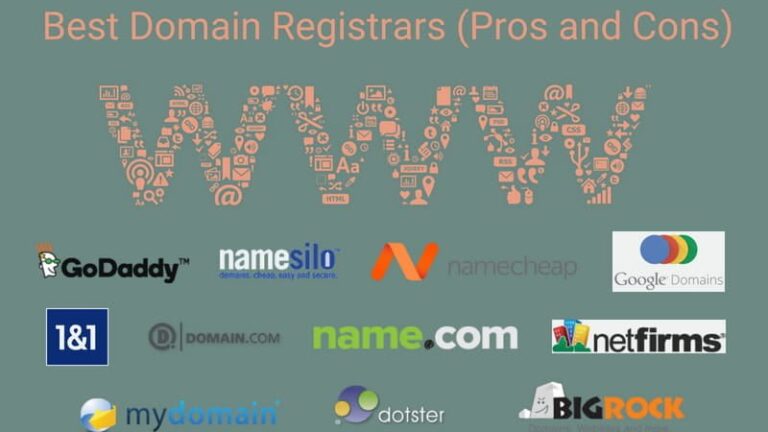 Last updated on
Are you wanting to buy a domain name ? Here are the top 11 best domain registrars for your choice (Pros and Cons)
Starting a website then you will need to register a domain name for your website. Registering an international domain is very simple and fast. It takes 15 minutes to own your favorite domain. You just need to select the location to purchase the domain, then register and make payments directly on the provider's website.
If you don't know where to buy a domain name, we're gonna share with you all top 11 best current international domain providers. This rank is based on elements including trustworthiness, guaranteed quality, quick payment, good support and additional sales events.
Note: If you purchase a domain of your nation, then you can only buy from your nation's providers (for example: if you want to purchase a .uk domain then you need to contact providers from the United Kingdom) In the event that you select an international domain name (.com, .net, .org, v.v…) you have a wide variety of selections at many places, but it is advisable to choose a trustworthy provider.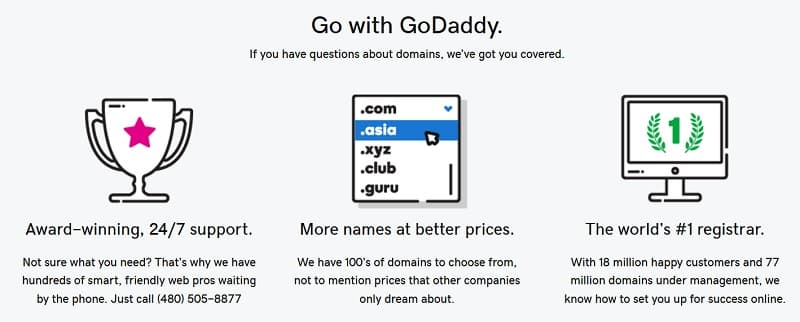 We put GoDaddy at the top of the list simply because it is the biggest and most trustworthy domain provider in the world.
Established in 1997, GoDaddy has been providing their services to above 13 million customer and taking charge of more than 59 million domains (it's around 30% of domains market). This makes GoDaddy become the biggest domain provider of the ICANN (Internet Corporation for Assigned Names and Numbers).
Domain control theme is developed in a convenient and easy-to-use way by GoDaddy. With GoDaddy you can point your domain name to hosting that's very fast.
According to our experience, Domain service of GoDaddy is considered high quality and trustworthy
Especially, the cost of purchasing domain is cheap at the first year due to a variety of sales events, discount codes, GoDaddy coupons
Pros:
There are discounts continuously
DNS updating time is fast
Transferring domain names is free of charge (within GoDaddy only, transferring to another provider usually requires fee of transferring)
Cons:
The cost of extending of GoDaddy is usually more expensive than other providers.
This might be the only con that we don't like about this provider, although comparing to the service's quality, it's not too expensive.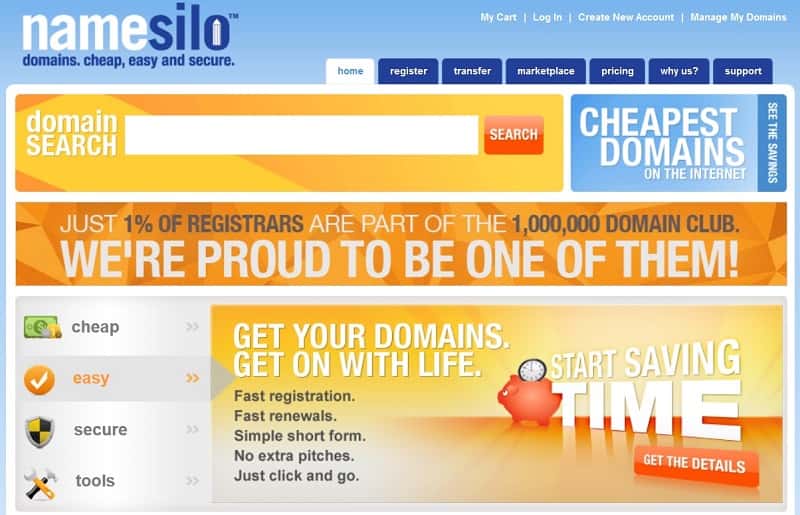 Although it just started in 2009, surprisingly in just a short period of time, the number of domains provided by NameSilo reached a huge number.
NameSilo knows how to make customers stay, with a not too expensive extending cost of $8.99/year.
Such big domain providers as GoDaddy, Namecheap, etc usually have cheap price at the first year of using. However, extending cost is huge and inconvenient on a long term using basis. You can click here for pricing comparison Namesilo with other registrars.
A solution applied by many people is to transfer domain name to another provider and Namesilo is considered as the best choice.
With the lifetime same cost policy, after your domain at NameSilo expires, you can still apply the low cost just like the first purchase. Therefore, comparing to other providers, the cost of registering domain at NameSilo is much cheaper.
The common domain extensions like .com, .net, .org usually have the price of under $8.99/year.
There is also one more wonderful thing when using domain of this provider: FREE Lifetime domain registering hidden information (Whois Privacy). Therefore, if you need to use this feature then don't miss Namesilo.
Pros:
The cost of domains is cheap
Free lifetime Whois privacy (hidden information registration)
Trust and used by many people
Quick support
Domain control panel is easy to use
Cons:
There are hardly any discount coupons when registering new domain names at Namesilo.
Therefore, we advise that you should purchase from other providers like GoDaddy, 1&1, etc at the first yeat, then transfer to Namesilo. From all things above i think you should register a domain name on Namesilo.
Namecheap was established in 2000 and considered as one of the best domain providers at the current time
Namecheap is proud to have 3 million registered customers with 7 million domains under control. Cost of registering a domain and extending it here is also reasonable. NameCheap usually has a discount to buy the domain with only 88 cents.
Pros:
A lot of discounts
Quick payment with PayPal, Visa, MasterCard
Quick Live chat support
Easy-to-use theme
Cons:
Current theme was changed and is quite complicated. It should be confusing and hard-to-use if you haven't got used to it.
Namecheap is also a trustworthy brand in the field of domain and hosting that you should think of.

Google Domains is a product offered by Google (Beta Stage). This service was launched on January 13, 2015.
Registering a domain name on Google this is not cheap. It's around $12 for .com/.net/.org. But you will have free lifetime Whois Privacy service (hide your information when searching with Whois). This is great. On GoDaddy it starts at $7.99 for privacy protection. Anymore, you will have 100 free branded email addresses.
Your domain is powered by Google's robust DNS server infrastructure. And Google Domain is a domain registrar extremely reputable (Google Trademark) that guarantees absolute security.
Pros:
Google LLC is a biggest and reputable company.
Domain registration, domain management on Google Domains extremely simple
Integration top website builders (Wix, Squarespace…)
Support is fast, very enthusiastic and careful
Cons:
The cost of domains name is not cheap
No mention of discount, coupons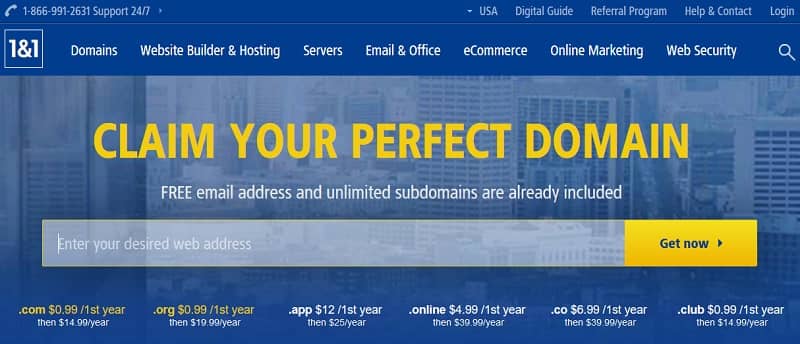 1&1 (1and1) is one of the oldest domain and hosting providers in the world. Registering a domain at 1&1 is quite simple. At the moment, we don't find any troubles; the only problem is waiting for them to process manually, which might take a few days.
Pros
Payment by Visa/MasterCard or PayPal.
Usable DNS, hidden information is free of charge (after registering, you need to manually activate it)
Cons:
The cost of extending is higher than other domain providers.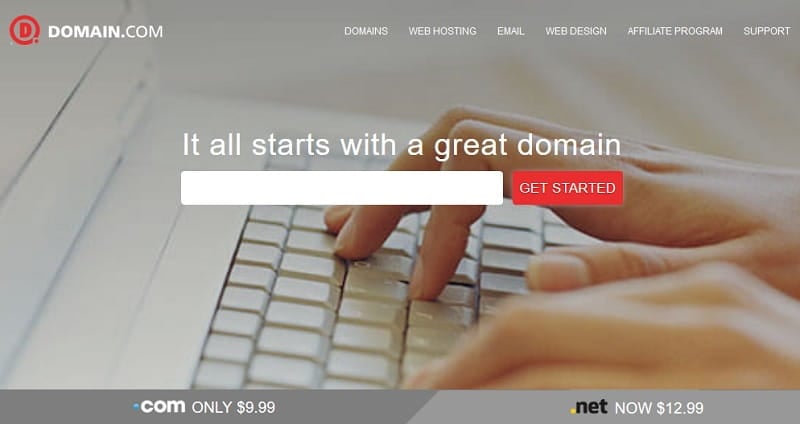 Mentioning domains, we cannot ignore Domain.com provider, which is one of the most popular providers in terms of brand image and customer service.
It is one of the best domain providers in the world with a variety of sale-offs, innumerable discount coupons when registering new domain, extending and transferring domain.
If you need to use a large number of domains then you should consider domain.com. Once in a while domains will be discounted, even at the price of less than $1.
Note: After purchasing domain from here, you cannot immediately use it, but have to verify the domain. This is a must and unavoidable, just like you verify an account. Click on verify, then Domain.com automatically send a link to your email.Click on the link and wait for 2 to 4 hours to finish verifying, then you can use the domain.
If you mistakenly register a domain, or don't like the registered domain, you can cancel the registration and receive your refunds within 30 days.

Name.com is also one of the most famous domain providers, which was established in 2003. This provider is recognized by ICANN with the headquarter located in Denver, Colorado. The company has 300k customers and 2 million domains under control.
Beside providing domains, Name.com also provides hosting, email, SSL certificate services and website-related services.
Name.com is one of the providers whose security is considered good.
Netfirms is also a domain provider of EIG cooperation. They usually have huge discounts for domains, wth $0.99/ year.
Comparing with Doster, extending domain at Netfirms costs $13.49. It is reasonable but still quite high and has no extension coupons. Therefore, you should turn off the automatic extension feature when registering domain here.
Dotster is also one of the domain providers of EIG. EIG has 4 domain providers
Dotster.com
Netfirms.com
Domain.com
MyDomain.com
EIG's ambition is gradually revealed. It seems that this company is attempting to surpass GoDaddy and becomes the biggest domain provider in the world, with innumerable continuous discount series. Therefore, if you have an intention of purchasing a domain, then considering buying domain at 1 of these 4 providers is also a good thing to do.
MyDomain.com, Dotster, Netfirms and Domain.com are sub-companies of EIG, therefore their registration and control themes are similar. Discount series usually take place at the same time within 1 to 3 days, with no specific time, so registration needs to be quick and accurate.
Out of the 4 providers, Domain.com has the lowest extending cost of $11.49; My Domain comes next – $11.99.
However, recently Domain.com seldom has any discount series for customers.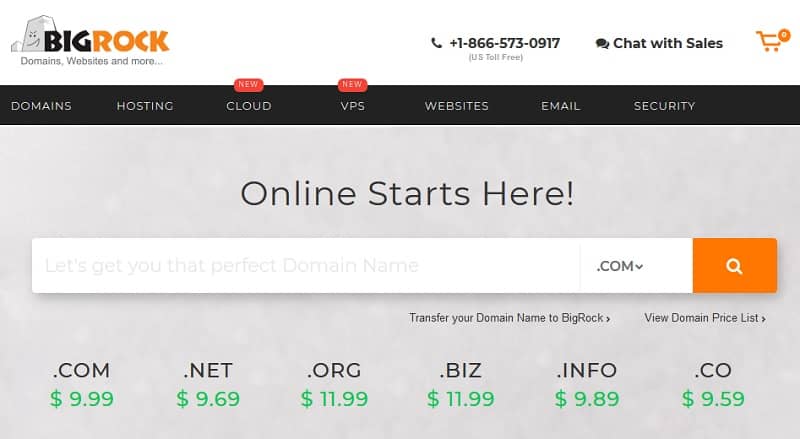 This is a domain provider coming from India. BigRock was founded in 2010 and is currently the best domain and hosting provider of India. The product categories of BigRock include domain, hosting, business email, website building service, etc
With over 10 years of experience, BigRock is currently in charge of above 6 million domains all over the world.
BigRock has 2 websites
https://bigrock.in for Indians
https://bigrock.com for internationals
Conclusion
Above are our top 11 best domain providers based on our subjective experience. We recommend all to use GoDaddy or Namesilo due to their friendliness of the service and staffs.
Apart from above domain providers, you can trust and use some of the domain providers as following:
Ewallhost.com
Alpnames.com
NameBright.com
Register.com
Whois.com
…
There are also many hosting providers that provide domains as an additional service: BlueHost, iPage, HostGator, Stablehost…
In general, owing a domain at the current time is simple and easy without spending too much money and time.
Additionally, providers continuous give out discount events, thus the domain cost is not too different. Importantly, you need to select one and experience it, purchase one and give your feedback below!
We hope you like this article. Then you can choose and buy a domain with registrar that you favour. If you know any better domain registrars, please comment below.