How to Use Minds Token? How Minds Works and What to Notice?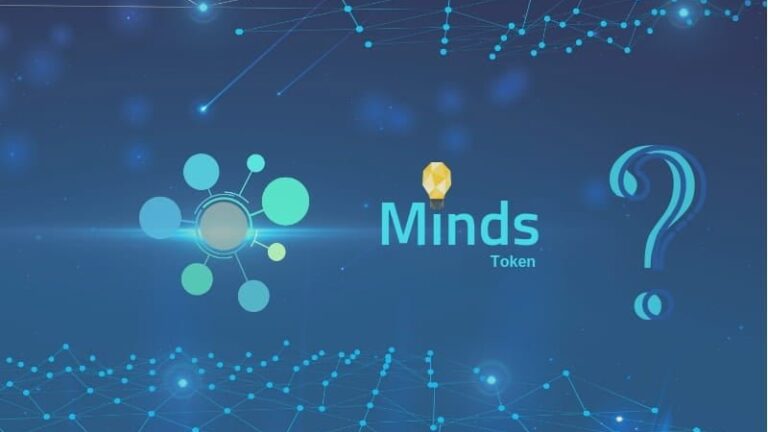 Are you using Minds (Blockchain Social Network)? How Minds works? And what to notice when using Minds? What is Minds Token used for?
How Minds works
In the last article about Minds (Blockchain social network), we discussed in detail blockchain Minds and Minds Token, outstanding features and what to pay attention to when using Minds.
Similar to many other social platforms, users join in Minds by creating an account, password and email (then it is also required to provide your phone number to earn Minds Tokens). Profile page of the user is called Channel, including a profile picture, banner, where people can share their posts as newsfeed, pictures, videos, links and long articles (Blogs). Additionally, we can also create groups to discuss some topics.

Minds users do not make friends with one another like Facebook, but instead subscribe to get notifications on newsfeed.
What Minds differs to many other social platforms is that it's the combination of social media and cryptocurrency. Specifically, Minds also developed a digital currency called Minds Token, which uses the ERC20 technical standard (like Ethereum – the second biggest cryptocurrency in the world). Users are able to earn Minds Token by posting, commenting, receiving upvotes (similar to "Like" on Facebook) and also inviting others to join the platform (referral link). With this currency, users can use it to boost their articles and channel, which is similar to paying for advertisements on Facebook fanpage.
What is Minds Token used for?
Minds Token is sent to the Offchain wallet of the user and is only used inside Minds server.
You can use Minds Token in the wallet in order to boost your posts/content or give as a gift (Wire) to a friend or an author that you support. 1 Token is equal to 1000 views (impression). Transactions with Offchain wallet are free of charge. You can also reward others by listing on your timeline by clicking on Add Reward button (Rewards section, below Avatar section) and filling number of Token and the describe the reward.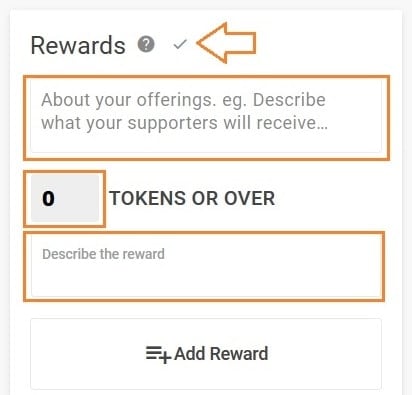 Or you can withdraw Minds Token to Onchain wallet. This Onchain wallet is connected to the external Ethereum (ETH) cryptocurrency network, which is also called ETH wallet account. To send and receive tokens on this account, your tokens are converted to ethereum (now 1 ETH ~ $300), then you can transact with other cryptocurrencies and foreign currencies, which means you can convert to real cash. Transactions on Onchain wallet shall cost an insignificantly fee, due to the fact that you have to pay for gas fee and ETH diggers' transaction fees.
You can buy Minds Tokens with ETH.  Exchange rate: 1ETH = 2000 Minds Tokens.
Note: for buying ETH you can go to https://coinbase.com/ then create and setup an account for yourself. Afterwards, you can buy Minds Tokens by using ETH in your wallet. More information here
What to notice when using Minds
Many people say that they have problems with passwords and cannot register: passwords on Minds have to be long enough and contain lowercase, uppercase, number and special characters (@,#,$,%).
Finishing registering, you have to verify your phone number. This can be ignored, but it is recommended to verify your phone number because it is the very first condition to earn Minds Tokens.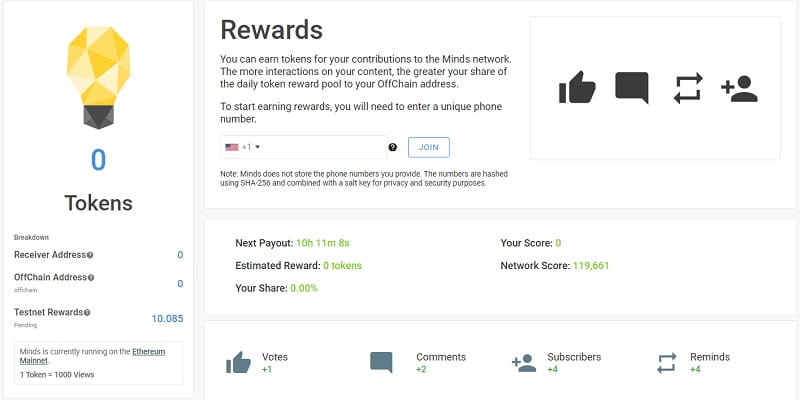 When you give Minds your phone number, it will be used to create an ID for your server. Your phone number will not be saved on Minds server.
You can upload your image to set your avatar, cover image, etc (However, with cover images you might encounter some errors due to wrong size or wrong display of position of it)
The outstanding feature of Minds is that we can earn money (as above)
Minds has dislike button (you don't receive any points/tokens when someone dislikes you)
Nickname (display name) can be changed, username cannot be changed. You should use short and easy-to-remember username. After that, you can change your display name (nickname) as you want in the setting section.
When searching for someone on Minds, add @ before their username
On Minds, there is no such thing as friend or unfriend. There's only "Subscribe". You can only text as long as you subscribe.
When texting someone, you need to type a password (that should be different from your registering password). This might be used to prevent spamming, hacking or leaking. Only texters need to type the password, receivers don't need to.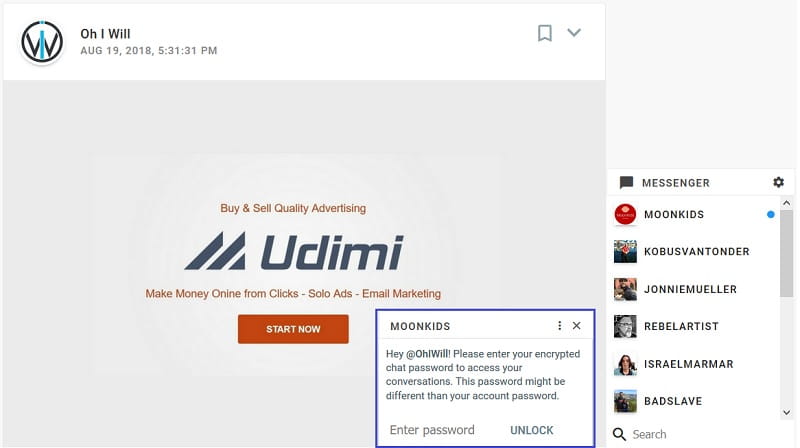 As showing civilization and respect to original posts of the author and their rights, we should share the content by clicking on Remind. Avoid copying the content or reposting on your channel, except for some rare or unavoidable cases
Once in a while Minds gives out free tokens (1 token most of the time). Check your email to receive them.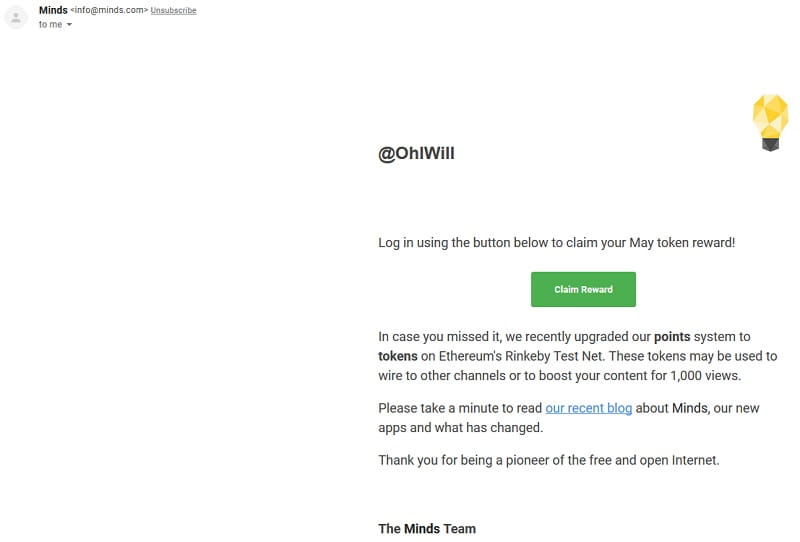 Minds also has some highlight points
Completely free of charge
Minds uses blockchain technology, which allows running on a decentralized network. It's developed based on users contributions, created contents and engagements between users.
Source codes are controlled by an energetic and friendly community. Unlike many closed source social platforms, Minds serves people instead of profits.
It includes such features as Blog, Group, Channel, and Video.
You can earn money from Minds with Minds Token. While Facebook takes users information to sell to the third-party for profits without giving a penny to users, Minds pays users. With Minds, the number of likes (upvote), shares (remind), comments, etc are converted to rewarding points. These points are accumulated in order that users can use them to advertise their contents, give to someone or withdraw.
The famous hacker group of "Anonymous" publicized that they support Minds in 2015.
Editing feature of Minds is more efficient and convenient comparing to Facebook.
Minds has the function of uncovering/covering mature contents – with the E symbol
If you upgrade to Minds Plus, you will also have Premium Features.

In the past, we witnessed the collapse of Myspace and the uprise of Facebook. We can also see that the Yahoo empire was replaced by the giant guy Google, and currently blockchain technology is the global trend, thus Minds (Crypto Social Network) might be a tremendous competitor of Facebook.
So we should use other social networks together with Minds that would be great! If you still do not Minds account then you can register for Minds now and promote your channel, blog, videos… for FREE.